20 Minute Green Thai Curry Noodle Soup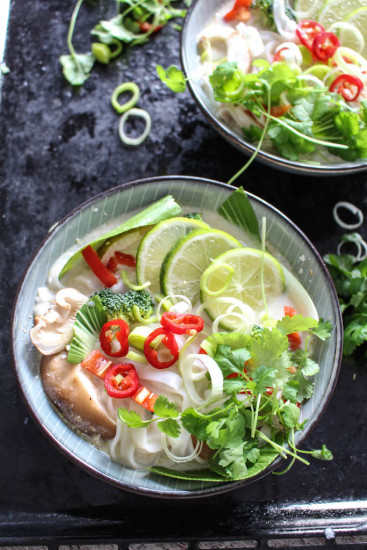 Author:
Heavenlynn Healthy
1 - 2 teaspoons of green thai curry paste
1 small piece of ginger
1 tablespoon of extra-virgin coconut oil
2 tablespoons of homemade vegetable stock paste
5 cups (1250ml) of water
1 can (400ml) of coconut milk
2 tablespoons of tamari or soy sauce
2 tablespoons of honey or coconut sugar
2 spring onions
8 shiitake mushrooms
2 small bok choy
1 red pepper
1 chili (optional)
1 lime
fresh cilantro to top
1 pack of rice noodles
Start by grating the ginger or chopping it into small pieces. Chop the spring onions, shiitake mushrooms, red pepper and bok choy into bite-sized pieces.
Heat the coconut oil in a large pot over medium heat. Add the grated ginger and green curry paste and sauté for a few seconds until the flavors start to expand.
Now add the water, vegetable stock paste and coconut milk and bring to a boil over medium to high heat. Reduce the heat to medium low and add the tamari, the juice of the lime, honey or coconut sugar, shiitake mushrooms and bok choy. Let it simmer for about 10 minutes.
Boil the rice noodles in a pot of hot water for about 5 minutes, depending on the size of your rice noodles. Drain the water and set aside.
Once the vegetables are tender, but not smooshy, remove the soup from the heat. Add the rice noodles and garnish your soup with fresh cilantro, fresh chili and add some more tamari or lime juice if you prefer.
Recipe by
Heavenlynn Healthy
at http://www.heavenlynnhealthy.com/20-minute-green-thai-curry-noodle-soup/