Bean and Buckwheat Chili with Dark Chocolate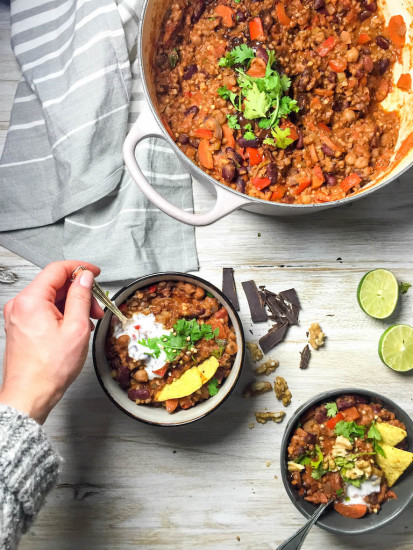 Author:
Heavenlynn Healthy
2 tablespoons of extra virgin olive oil
1 onion
2 cloves of garlic
2 teaspoons of cumin seeds
1 fresh chili
2 teaspoons of paprika powder
2 teaspoons of ground oregano
½ teaspoon of dried marjoram
1 teaspoon of raw honey
2 tablespoons of tomato purée
2 red or green peppers
1 cup (190g) of buckwheat groans
2 carrots
3 celery sticks
1 cup (100g) of walnuts
1 can (400g) of kidney beans
1 can (400g) of chickpeas
3 cans (1200g) of canned tomatoes
1 cup (250g) of water
2 teaspoons of sea salt
½ cup (120ml) of apple cider vinegar
¼ cup (60ml) of red wine
½ regular bar of 70 - 80% dark chocolate (about 60g)
1 lime
1 bunch of fresh cilantro (optional)
6 tablespoons of yoghurt or plant-based yoghurt
corn chips to serve
Start by chopping the onion, crushing the garlic and chopping the vegetables into bite-sized pieces. Remove the seeds from the chili and roughly cut it into strings. Finely chop the walnuts or crush them gently in your food processor. Be careful not to turn them into walnut meal, though.
Heat the olive oil in a large dutch oven or large saucepan. Add the onion, garlic, chili, cumin seeds, paprika, oregano, and marjoram and sauté it for a minute or two until fragrant. Be careful not to let it burn.
Add the chopped carrots, bell pepper, celery and sauté for another 3 to 4 minutes. Now add the buckwheat, beans, walnuts, canned tomatoes, tomato purée, water and salt and let it cook for about 30 minutes on medium heat. If you have a dutch oven that is not stove-safe, just place it into the oven at 180° for about 30 minutes.
Now add apple cider vinegar and chocolate and stir for another 5 minutes. Add more salt and freshly ground pepper to taste.
Serve with a dollop of plain yoghurt or plant-based yoghurt, fresh cilantro, lime juice and corn tortilla chips.
Recipe by
Heavenlynn Healthy
at http://www.heavenlynnhealthy.com/bean-and-buckwheat-chili-with-dark-chocolate/