Raw Strawberry Peach Buckwheat Porridge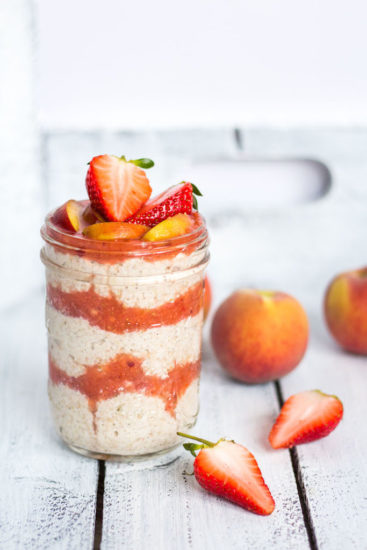 1 cup (180g) of raw buckwheat, use certified gluten-free if allergic
¼ cup (60g ) of walnuts
½ cup (120ml) of almond milk, or any other plant-based milk
2 peaches
2 cups (about 250g) of strawberries
a pinch of cinnamon
Cover the buckwheat completely with water and let it soak for at least an hour, preferably over night for better digestion. Do the same with the walnuts.
Drain the buckwheat and walnuts.
Remove the stone from the peaches, and the green from the strawberries.
For the practical version: Mix all ingredients in a food processor or high speed blender until smooth.
For the pretty version: blend the strawberries and peaches in a food processor or blender and set aside. Then mix the buckwheat, almond milk and cinnamon in a food processor or blender until smooth.
Fill a mason jar with the different layer, alternating between one layer of peach-strawberry-puree and buckwheat porridge.
Keeps for two days in the fridge in an air-tight glass container.
Recipe by
Heavenlynn Healthy
at http://www.heavenlynnhealthy.com/raw-strawberry-peach-buckwheat-porridge/