Cannellini Bean Stew with Hazelnuts and Dill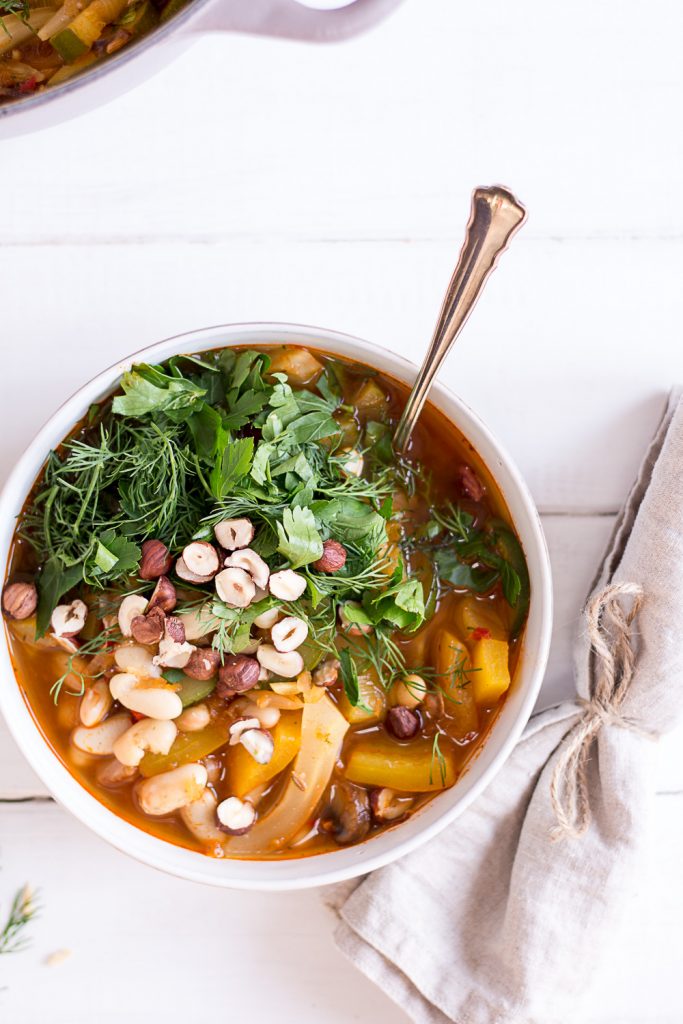 2 red onions
2 garlic cloves
250g of mushrooms
1 fennel
1 yellow bell pepper
1 zucchini
1 teaspoon of fennel seeds
1 teaspoon of coriander seeds
1 teaspoon of paprika powder
½ teaspoon of cinnamon
½ teaspoon of chili flakes
2 tablespoons of tomato paste
4 tablespoons of extra virgin olive oil
1,5l (6 cups) of veggie broth or water (see below)
4 tablespoons of home made vegetable stock paste if using water
3 cans of cannellini beans (600g)
1 lemon
1 bunch of fresh parsley
3 stalks of fresh dill
2 stalks of fresh mint
1 stalk of cilantro (optional)
½ cup (75g) of hazelnuts
sea salt and pepper
Wash the vegetables and cut them into bite-sized pieces. Chop the onion and garlic, and fresh herbs. Place all the spices on a small plate. Half the hazelnuts. Drain the cannellini beans.
Add the spices to a large pot and heat for about 4 minutes until fragrant. Add the olive oil, onions and garlic and sauté for about 3 minutes. Then add the vegetables and tomato paste and sauté for another 3 - 4 minutes.
Add the water and vegetable stock paste or vegetable broth and let simmer for 20 minutes on medium heat.
Now add the cannellini beans and heat for another 5 minutes. While the beans are heating up, place the hazelnuts into a small pan and roast them on medium to high heat for about 5 minutes until fragrant.
Season the stew with the juice of the lemon, sea salt and pepper.
Garnish the stew with a generous amount of herbs and hazelnuts.
Recipe by
Heavenlynn Healthy
at http://www.heavenlynnhealthy.com/cannellini-bean-stew-hazelnuts-dill/