Sweet Potato Quinoa Falafel with Coconut Cilantro Tzatziki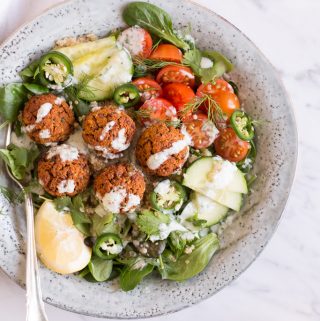 1 large sweet potato, or two small ones (about 900 - 1000g)
200g quinoa
100g cooked chickpeas
1 garlic clove, finely chopped
½ bunch of parsely, roughly chopped
2 strangs of dill, finely chopped
1 teaspoon of ground turmeric
1 teaspoon of ground coriander
1 teaspoon of ground cumin
¼ teaspoon of both sea salt and black pepper
some buckwheat flour, or flour of your choice, for the baking tray
2 handful of mache salad
2 handful of baby spinach
100g of cherry tomatoes
100g of cucumber, grated
250g of coconut joghurt
2 teaspoons of maple syrup
½ bunch of cilantro, finely chopped
4 fresh mint leaves, finely chopped
1 jalapeno, de-seeded and finely chopped
the juice of ½ lemon
1 clove of garlic, finely chopped
¼ teaspoon of both sea salt and black pepper
Peel and cube the sweet potato and either steam it in a steamer until soft or roast it in the pre-heated oven at 180 °C for about 30 minutes.
Cook the quinoa with 600ml of water for about 15 minutes. Fluff with fork, and measure 150g for the falafels. Set the rest aside for the bows.
In a food processor, mix the soft sweet potato, quinoa chickpeas, and all of the other ingredients except for the flour and mix into a paste. Take out about 2 tablespoons of batter and form little balls with it in your hands. Place the balls on a baking tray covered with a bit of buckwheat flour and roast them in the pre-heated oven (180 °C) for about 30 - 40 minutes. They should be crunchy on the outside, but soft in the inside.
Mix all of the ingredients for the tzatziki in a small bowl.
For the bowl, mix the salad, the baby spinach, and tomatoes and spread evenly over two bowls. Add about 4 - 5 falafel balls to each bowl and sprinkle with the tzatziki, some dill and cilantro.
The remaining falafel last about 3 - 4 days in the fridge and can be frozen, too.
Recipe by
Heavenlynn Healthy
at http://www.heavenlynnhealthy.com/sweet-potato-quinoa-falafel-coconut-cilantro-tzatziki/