Turmeric porridge to start the new year 2017 right!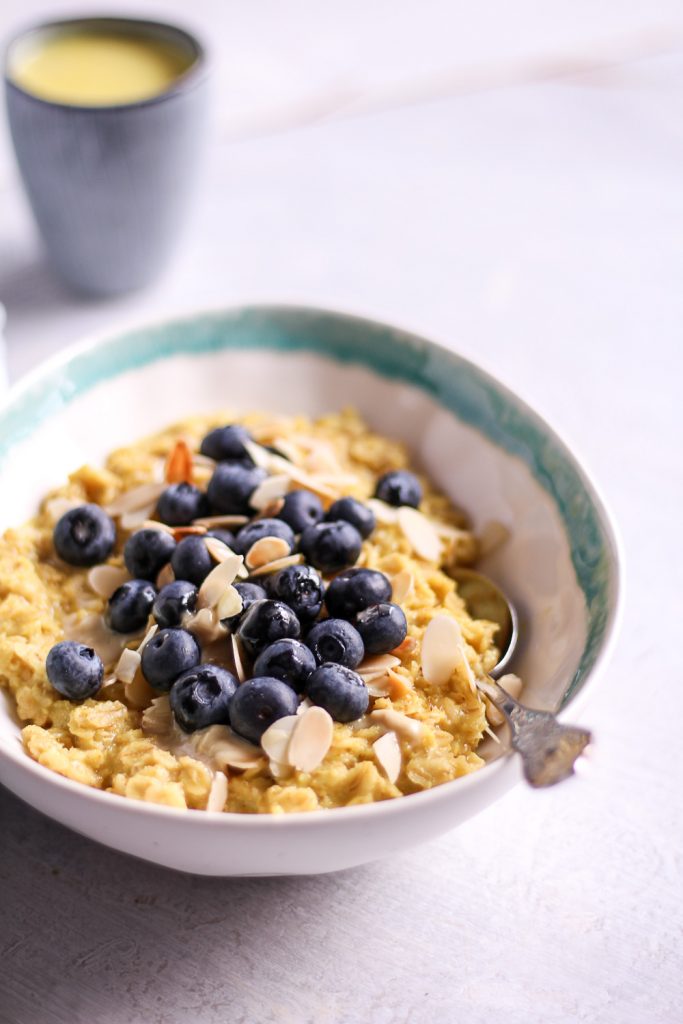 The Holidays are over, and I took a few days off as well, so I am feeling totally energized and ready for the new year! During the days between Christmas and New Year's Eve, I worked out a lot, especially in the morning. My family is pretty active, so all of us usually started the last weeks with a morning run with Balu, and my boyfriend and I then completed the run with a yoga session. It was so nice to get our bodies moving after all of the food and festivities around Christmas. This turmeric porridge was my go-to porridge recipe in the last four weeks, so I thought it would be the perfect first recipe for the new year 2017!
I am the biggest fan of turmeric as you may have noticed. I add it to all of my recipes (here's the evidence turmeric latte, turmeric and vanilla post yoga pot, turmeric smoothie, cucumber salad with beluga lentils and turmeric vinaigrette and much more), and recently I've started to add it to my porridge, too.
I was inspired by this recipe during my latest Amsterdam visit, where I finally got to go Lavinia Good Food, one of the cutest and most delicious restaurants in the city. They served a delicious turmeric porridge, so I just had to recreate it! Thank you, Lavinia, for the inspiration. By the way, if you're planning your city trips this year, you have got to add Amsterdam to your list. It's one of the healthiest cities in Europe, and I have just completely fallen in love with the city! I love it so much, that I've written a complete Amsterdam City Guide about my experiences in this lovely city.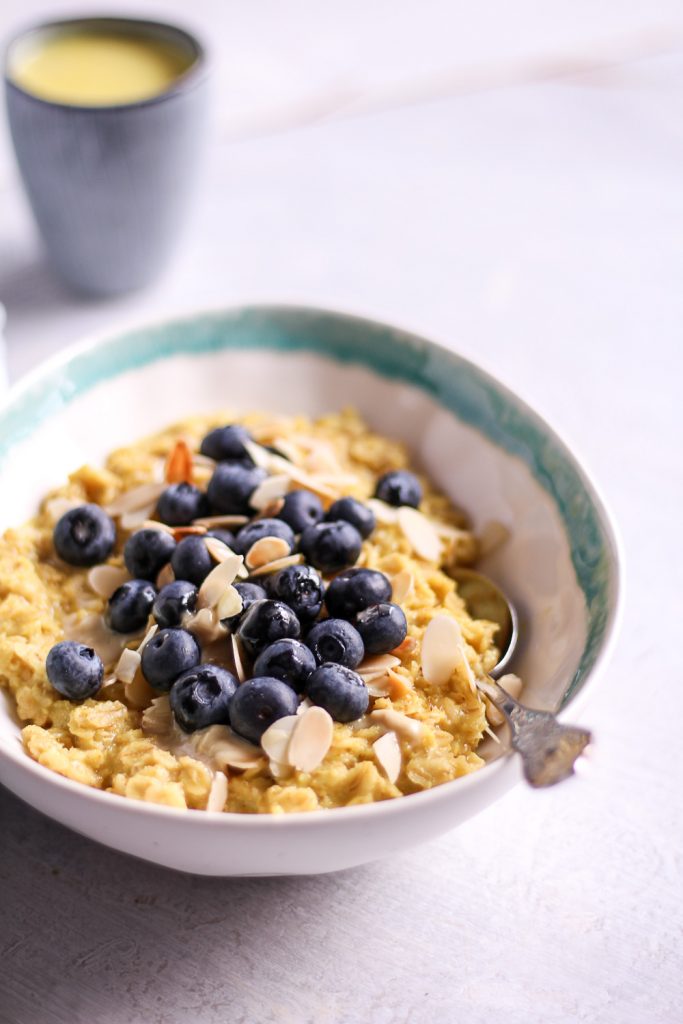 I totally love this porridge in the winter months as it is so full of warm spices. Turmeric has many health benefits, which is why it is the number one health spice used in the ayuvedic kitchen. It is commonly known for its anti-inflammatory properties, high antioxidant amount and phytonutrients. Historically it has been helping people with tooth aches, menstrual pains, bruises or colics. Most of the health benefits are traced back to the main compound, curcumin, which also gives turmeric the bright yelllow color.
Several medical studies have reven related turmeric, and its compound curcumin, to cancer prevention of colon, skin or pancreatic cancer. Of course most of those studies have used large amounts of turmeric to achieve the desired results, which is unrealistic if you don't want to eat an entire turmeric root every day (trust me, it would almost be like eating an entire ginger root). So all we can do is start small, and increase our daily turmeric intake by adding it to porridge, lattes, curries, sauces or dressings.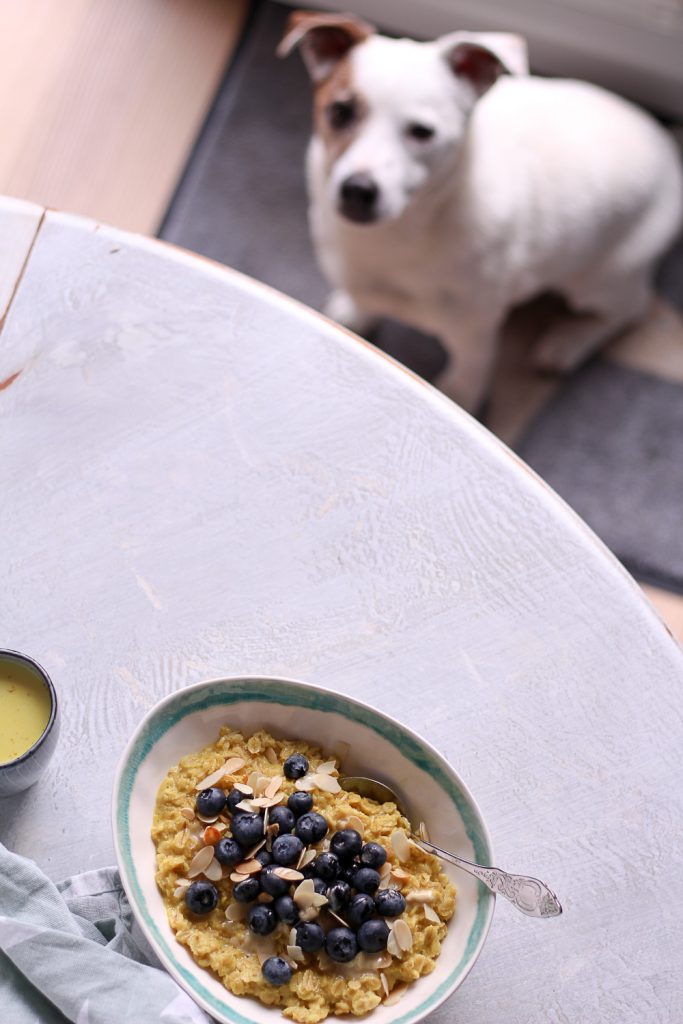 As you can see, Balu also very much wanted a taste of it, but unfortunately porridge is not for dogs. I just thought it would be cute to add to this post, as the new year is all about happiness and joy, and he brings me so much joy!

Turmeric Porridge
Ingredients
1 cup of gluten free oats
1.5 cups of (gluten free) oat milk
the juice of 1 orange
½ teaspoon of turmeric
½ teaspoon of cinnamon
¼ teaspoon of ginger
3 tablespoons of sliced almonds
1 cup of blueberries (fresh or frozen)
a pinch of salt
Instructions
Start by adding the oats, oat milk to a pot and allow it to cook for about 5 minutes, or until bubbly.
Add the spices and orange juice and stir frequently. If it gets too dry, add more orange juice or oat milk.
Finally add the honey or maple syrup if desired. I find that oat milk is sweet enough in this recipe.
Roast the almond slices in a small saucepan without oil until they turn slightly golden brown.
Pour the turmeric porridge into two bowls and garnish with the blueberries, and almond slices. If you use frozen berries, heat them up in a saucepan before stirring them in.
Enjoy!
---
DID YOU MAKE THIS RECIPE OR HAVE ANY SUGGESTIONS, QUESTIONS OR COMMENTS?
Feel free to leave a comment below, and don't forget to tag your creations on social media using #heavenlynnhealthy.
I'd love for this blog to be a dialogue.
---