Thai Sommer Rolls with Peanut Dipping Sauce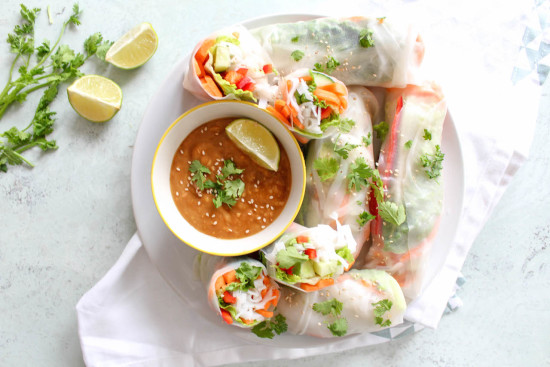 1 garlic cloves
1 thumb-sized piece of organic ginger
2 tbsp gluten-free tamari or regular soy sauce
2 tbsp maple syrup
2 tbsp fresh lime juice
⅓ (85 g) cup peanut butter
¼ (60 ml) cup water (more or less as needed)
1 cup cooked rice noodles
5-8 rice paper sheets
1 carrot
1 avocado
½ cucumber
½ red pepper
5-8 romaine leaves or salad greens of your choice
1 handful fresh basil
1 handful fresh cilantro (optional)
To make the peanut sauce: blend or mix together all the ingredients until smooth.
To make the wraps: cut all the veggies into thin strips or use a spiralizer to make them even thinner. Put the rice paper sheets, one at a time, in warm water so they soften. Then place them on a large plate and carefully dry them with a kitchen towel.
Arrange your fillings in the middle of the paper and sprinkle 1 tsp of the peanut sauce over the veggies. Fold over two ends, then wrap it up like a burrito, making it as tight as possible. It took me a while to get a hang of it, so keep trying. Here are some pictures to help you with the technique, but just to clarify, I am not really good at it either.
Recipe by
Heavenlynn Healthy
at https://www.heavenlynnhealthy.com/thai-sommer-rolls-with-peanut-dipping-sauce/