Wild garlic pesto with spelt pasta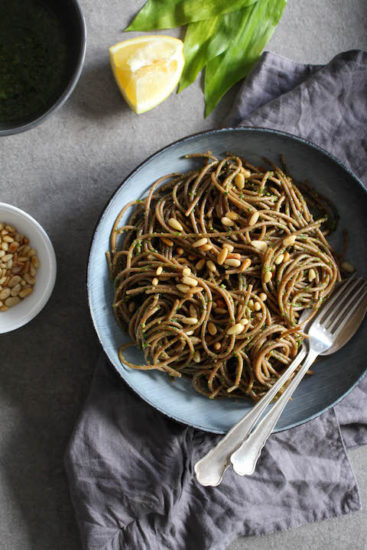 600g spelt or gluten-free pasta
4 cups (1 liter) of water
1 tsp salt
Serves 4:
2 handul (80g – 100g) wild garlic
2 handful (30g) rocket
⅓ cup (60g) pine nuts (or almonds)
⅓ cup + 2 tbsp (100g) olive oil
the juice of ½ lemon
1 tsp maple syrup
½ tsp salt
pepper to taste
Start by cooking the pasta. Pour the water into a large saucepan and bring to a boil. Add the salt and the pasta and cook on medium heat for about 8-10 minutes or according to the pasta package.
While the pasta cooks, prepare the pesto: Start by roasting the pine nuts in a small pan. As pine nuts release oil when roasted, you will not need olive oil to roast them. This only takes a few minutes so stir them frequently to avoid burning. Once the pine nuts have a light brown color, remove the pan and set the pine nuts aside to cool. Now wash the wild garlic and rocket. Add all ingredients to the food processor and blend until you have a nicely smooth pesto. You may want to add more salt or agave to taste.
Once the pasta is ready, drain the water and serve immediately while hot. Once or two teaspoons of pesto should suffice per serving.
Recipe by
Heavenlynn Healthy
at https://www.heavenlynnhealthy.com/wild-garlic-pesto-with-spelt-pasta/