Asparagus with Avocado Hollandaise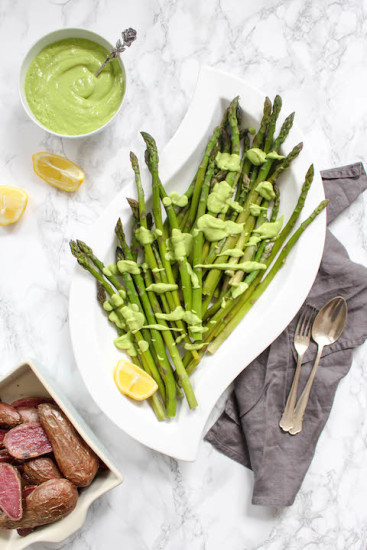 2 kg asparagus
½ tsp maple syrup
1 kg potatoes
1 ripe avocado
250ml hot (boiling) water
the juice of ½ lemon
1 tsp maple syrup
½ tsp salt
¼ tsp pepper
2 tsp vegetable oil
Wash the potatoes and peel them if desired. Organic potatoes can be eaten with their skin on.
Place the potatoes in a large saucepan or pot. Add enough cold water to cover the tops of the potatoes completely. Bring to a boil, then add ½ - 1 teaspoon salt to the water. Reduce the heat to medium low or low. Cover the pan with a lid and cook the potatoes for about 15-20 minutes.
Peel the asparagus and cut off about 1 cm (1/2 inch) of the ends. In a large pot, heat up enough water to cover the asparagus completely. Add a pint of salt and agave, and cook the asparagus for about 15 minutes.
In the meantime, make the avocado hollandaise.
Cut the avocado in half and remove the pit. Add the flesh to a blender together with all ingredients except vegetable oil, and blend for about 1 minute. Add the vegetable oil and blend for another 30 seconds until you have a rich and creamy sauce.
Once the asparagus and potatoes are ready, drain the water and serve immediately with the avocado hollandaise.
Recipe by
Heavenlynn Healthy
at https://www.heavenlynnhealthy.com/asparagus-with-avocado-hollandaise/