Turmeric Veggie Paella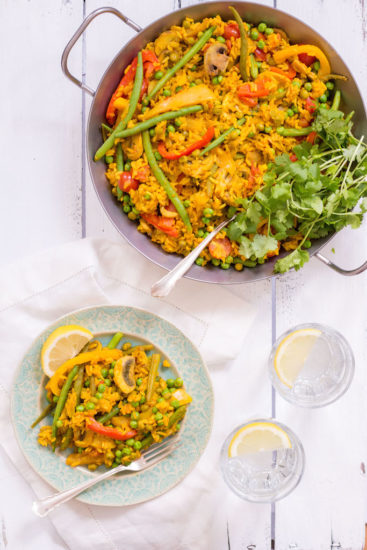 2 tbsp extra-virgin olive oil
2 cloves garlic
1 onion
1 red pepper
1 yellow pepper
1 ½ cups (200g) (cherry) tomatoes
½ cup of frozen green peas
½ zucchini squash (200g)
200g of fresh green beans
150g of mushrooms
1 ¼ cup (200g) of brown rice
4 cups (1 liter) of vegetable broth
2 teaspoons of turmeric powder
1 teaspoon of sweet paprika powder
½ teaspoon of cayenne pepper
the juice of 1 lemon
0,1g of saffron (optional)
salt and pepper to taste
Start by chopping the onions, garlic, red and yellow pepper, zucchini squash, mushrooms and tomatoes. Heat the olive oil over medium heat in a large saucepan and sauté the garlic and onion for about two minutes until golden brown. Add the red and yellow pepper, tomatoes, zucchini and mushrooms and cook for another 5 to 10 minutes.
Add the frozen veggies and green beens and cook for 5 more minutes. Now add the brown rice and cook until it turns translucent. Pour in the vegetable broth (make sure it is hot), then add all the spices.
Cook the veggie paella on medium or high heat for 40 - 50 minutes while frequently stirring. Don't worry if your paella looks like paella soup – it takes a while for the rice to absorb the vegetable broth. You might even need to add more broth when the rice gets too hard or dry.
Cover the paella with a kitchen towel, pour the lemon juice over it and let stand for at least 10 minutes before serving.