Chia Superfood Bread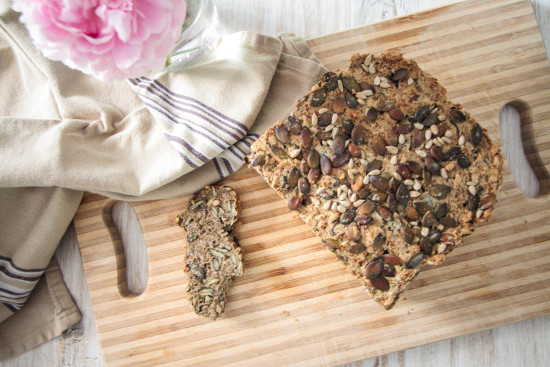 Author:
Heavenlynn Healthy
3 cups (400g) buckwheat flour
1 cup (100g) rolled oats (celiacs use gluten-free oats)
1½ cups (180g) pumpkin seeds
1½ cups (210g) sunflower seeds
3 tbsp chia seeds
4 tbsp psyllium husk seeds (or 3 tbsp powder)
2½ cups (625ml) sparkling water
1 tsp honey or agave
1 tbsp apple cider vinegar
1 tsp salt
Start by pouring the oats into your food processor and blend it until a smooth flour forms. Add this to a big bowl and stir in all the dry ingredients. Mix well with a big spoon or use your hands.
Now add the sparkling water, honey or agave, apple cider vinegar and salt, and mix again until everything is evenly covered like a wet dough.
Then cover it up with a kitchen towel and let it stand for at least 1 hour to allow it to soak in the water and firm up. Once the dough has completely soaked in all water (it really should not be runny anymore. If it is, then add some more psyllium husk seeds).
Pre-heat the oven to 180°C. Grease a loaf tin with coconut oil or olive oil and press the superfood dough into the tin with a spoon. Bake the bread for 50 to 60 minutes until you can pull a knife out of the center of it clean.
Once it's ready, take it out of the oven and let it stand for 15 to 20 minutes before enjoying it plain or with your favorite bread toppings or spreads.
Even though you shouldn't store bread in the fridge, I do, because it simply lasts longer that way. Since the bread is very moist, it won't dry out as quickly as other breads do. I also like to slice it and freeze the slices separately so I can warm them up one by one as I go.