Watermelon, Radish and Cherry Tomato Salad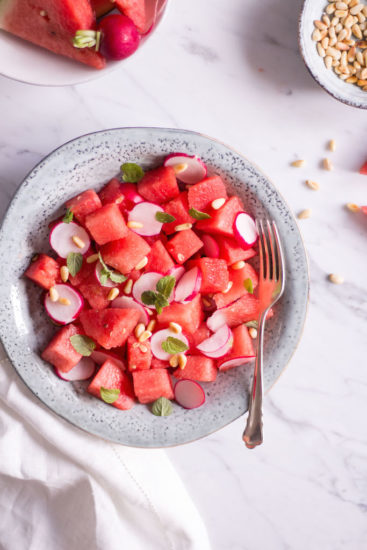 2 cups (200g) seedless watermelon
8-10 radishes (100g)
1 cup (150g) cherry tomatoes
a couple of fresh mint leaves
¼ cup (35g) pine nuts
2 tablespoons of olive oil
1 tablespoons of white balsamic vinegar (or apple cider vinegar)
1 squeeze of lemon juice
1 teaspoon of maple syrup
salt and pepper to taste
Start by cutting the watermelon into bite sized pieces. I used about ¼ of a medium to small sized watermelon. Place the watermelon bites into a salad bowl.
Remove the radishes from the green leaves, wash them and cut them into thin slices. Add them to the bowl as well.
Now wash the cherry tomatoes and cut them in halves. Wash and dry the mint leaves and finely chop them. Add everything to the salad bowl and stir well until everything is well mixed.
Now pour the pine nuts into a skillet and heat them up on medium heat for a couple of minutes until they start to turn brown. Be sure to watch them closely as they tend to burn pretty easily. Once they are roasted and smell heavenly add them to the salad.
For the dressing, simply combine all the ingredients in a small bowl and whisk until combined. Pour it over the salad and enjoy!
Tip: Don't throw away the greens of your radishes. You can turn them into a great radish detox soup.
Recipe by
Heavenlynn Healthy
at https://www.heavenlynnhealthy.com/watermelon-radish-and-cherry-tomato-salad/