Healthy Pad Thai with Peanuts and Coriander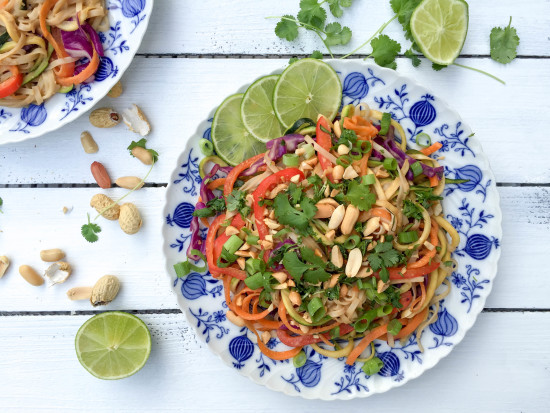 about 2 packages of rice noodles
1 zucchini squash
2 carrots
1 red pepper
½ cup of sliced red cabbage (optional, but adds a nice color)
1 tablespoon of coconut oil
½ cup plain peanuts
1 handful fresh cilantro or thai basil
1 garlic cloves
1 thumb-sized piece of ginger
3 tablespoons of soy sauce or tamari
the juice of 1 lime (or only ½ if you prefer)
3 tablespoons of maple syrup or agave
⅓ cup (80g) of peanut butter
1 tablespoon of rice vinegar (optional)
Start by boiling water and pour it into a large bowl. Add the uncooked rice noodles at let them soak for about 5 to 10 minutes.
In the meantime, spiralize the zucchini squash and carrots, and slice the red bell pepper. Crush the peanuts, and wash, dry and roughly chop the cilantro or thai basil, or both.
To make the sauce, simply place all the ingredients into a food processor or strong blender and blend until smooth. If you don't have a food processor, crush the garlic with a garlic press, grate the ginger, add all the ingredients for the sauce to a bowl and stir it around well.
Now heat the oil in a large pan or wok over medium heat. Add the veggies and stir fry them for about 3 minutes until tender. Do not overcook them or they can get soggy.
Then add the sauce and the rice noodles and stir for another minute or two until the noodles have fully absorbed the sauce. Add more tamari if desired.
Add the crushed peanut and chopped cilantro or basil and serve immediately.
Enjoy!
Recipe by
Heavenlynn Healthy
at https://www.heavenlynnhealthy.com/healthy-pad-thai-with-peanuts-and-coriander/