Damson, Apple & Blackberry Crumble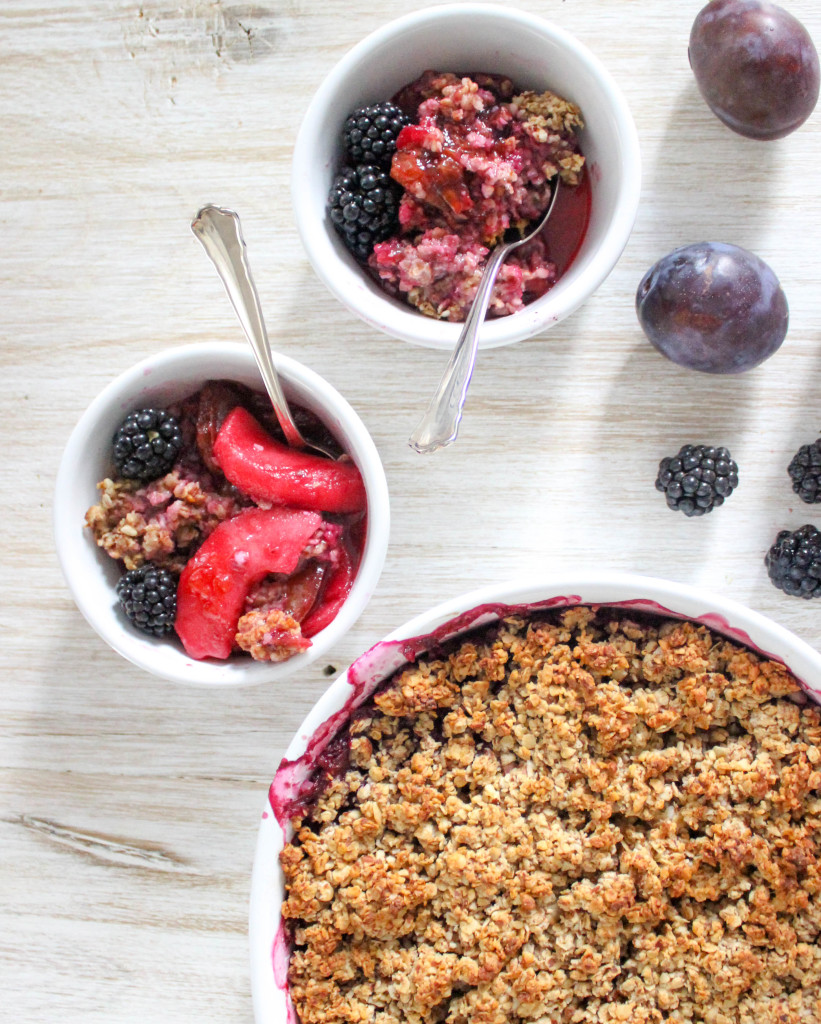 1 pound damsons (500g) or plums
300g apples (about 2-3)
200g blackberries and/or blueberries
1 tbsp maple syrup
1 tsp cinnamon
1 tsp coconut oil
2 cups (200g) whole almond
2 cups (200g) oats
3 tbsp coconut oil
¼ cup + 2 tbsp (110ml) maple syrup - 2 tsp cinnamon
a pinch of salt
Pre-heat the oven to 180°C (356°F) and grease a baking tin with coconut oil.
Place the almonds into a food processor and blend until a nice flour forms. Pour the flour into a bowl and add the oats and a pinch of salt.
In a small pot, heat the coconut oil. Once it's completely melted, add the maple syrup and cinnamon and stir well. Pour the sweet coconut oil mix over the oats and almonds and mix well with a spoon so you get a sticky and crumbly oat topping.
Now wash the damsons and remove their stones. Peel the apples, remove their stones and slice them. Wash the blueberries and blackberries.
Place the fruit into a large skillet and add the maple syrup and cinnamon. Heat everything over medium heat until it starts to bubble slightly. Reduce the heat to low and let it simmer for about 8 - 10 minutes.
Pour the fruit into the baking tin and cover it with the oat-almond mix, using your hands to spread it evenly.
Bake the crumble for about 20 minutes until the oats are starting to get a bit brown on top.
Remove it from the oven and serve immediately while still hot.
To make the crumble nut-free, use sunflower seeds instead of almonds or substitute them with more oats.
If you don't have a food processor use store-bought (organic) almond meal.
Use certified gluten-free oats for a gluten-free version.
Recipe by
Heavenlynn Healthy
at https://www.heavenlynnhealthy.com/damson-apple-blackberry-crumble/