Watercress, Beetroot and Avocado Salad with Beluga Lentils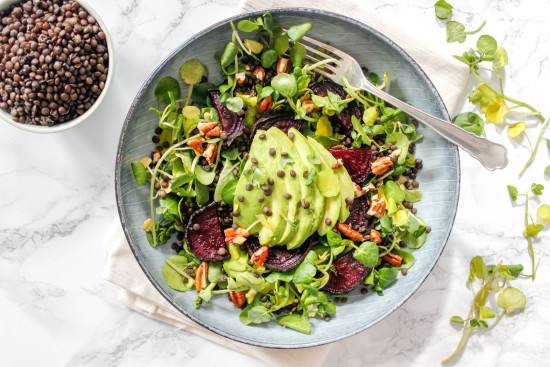 2 handful of watercress
2 handful of leafy greens (rocket, mâche, etc.)
2 medium sized beetroots
½ cup of beluga lentils
1 ripe avocado
½ cup (65g) of pecans
½ teaspoons of cumin (optional)
For the dijon-maple dressing:
2 tablespoons of olive oil
1 tablespoons of apple cider vinegar
1 teaspoon of dijon mustard
1 teaspoon of maple syrup
salt and pepper
Pre-heat the oven to 200°C (390°F).
Cut the beets into bite-sized pieces and place them on a baking sheet. Drizzle the beets with some olive oil, salt and pepper and a little cumin. Roast the beets for about 20 minutes until tender.
Cook the lentils according to the instructions in home-made veggie stock (for amazing flavour and extra nourishment) or water with a drizzle of apple cider vinegar - this takes approximately 15 minutes.
Meanwhile, wash the watercress and leafy greens, removing any brown leaves. Cut the avocado in half, remove the pit and scoop out the flesh with a spoon. Cut the avocado into stripes or bite-sized pieces.
To make the dressing, simply add all ingredients to a blender and blend until smooth or whisk it together in a small bowl.
Let the cooked beetroot and lentils cool while toasting the pecans in a skillet over medium heat.
You could combine all the salad ingredients together in a bowl but I like to pile everything up. Start with a layer of watercress and leafy greens, followed by beluga lentils, roasted beetroot, avocado, then finally the pecans. Drizzle the dressing on top.
Recipe by
Heavenlynn Healthy
at https://www.heavenlynnhealthy.com/watercress-beetroot-and-avocado-salad-with-beluga-lentils/