Cucumber Salad with Beluga Lentils and Ginger-Turmeric Vinaigrette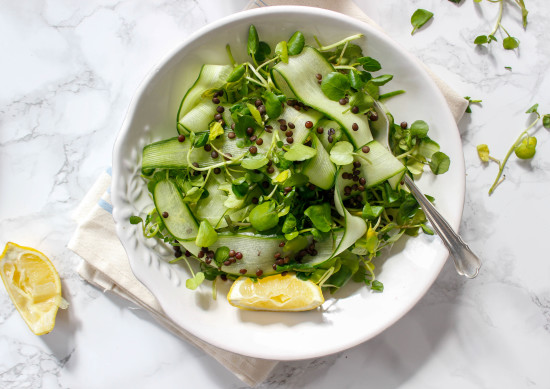 1 seedless cucumber
½ cup of beluga lentils
two handful green leaves such as mache or rocket
a handful of garden cress or watercress (optional)
3 tablespoons of extra-virgin olive oil
1 tablespoon of apple cider vinegar
1 teaspoon of freshly grated ginger
½ teaspoon of turmeric powder
1 teaspoon of agave or raw honey
¼ teaspoon of cumin (optional)
2 teaspoons of fresh lemon juice
salt & pepper to taste
Rinse the lentils under running water and cook them according to the instructions on the package.
Wash the cucumber and peel it with a vegetable peeler into long, thin slices.
Wash the green leaves, dry them and add them to a large salad bowl. If you are using garden cress or watercress, rinse this too and add it to the salad bowl.
To make the dressing, simply add all the ingredients to a small bowl and whisk everything together with a fork or a whisk.
Assemble the salad by adding all ingredients to a salad bowl and pour the dressing on top.
Recipe by
Heavenlynn Healthy
at https://www.heavenlynnhealthy.com/cucumber-salad-with-beluga-lentils-and-ginger-turmeric-vinaigrette/