Quick Vanilla Porridge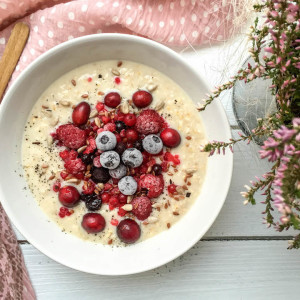 Author:
Heavenlynn Healthy
½ cup of oats (50g)
¼ cup of almond milk (60ml)
⅔ cup of boiling water (160ml)
½ teaspoon of vanilla powder
a pinch of cinnamon
1 teaspoon of agave or maple syrup (optional)
banana
shredded apple
frozen or fresh berries
stewed fruits
homemade almond butter
superfoods such as pumpkin or sunflower seeds, chia seeds, bee pollen, etc.
Start by boiling the water if you haven't already done so.
Place the oats into a saucepan together with the boiling water, almond milk, cinnamon, vanilla powder and sweetener if your are using one.
Let it sit with the lid on the pan for about 10 minutes.
If the oats have softened, heat the pan up on high heat for about 3 - 4 minutes while stirring them frequently.
Serve with your favorite topping.