Beetroot and Apple Glögg (Hot Wine or Punch)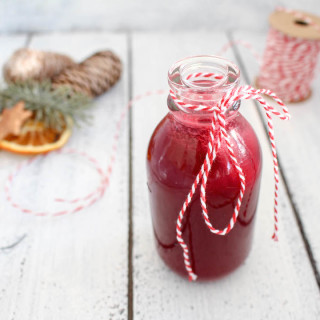 2 medium sized beetroots (250g)
4 apples (about 500g)
2½ oranges (organic please)
1 cinnamon stick
2 cm ginger
3 whole cloves
250ml water
½ bottle red wine (optional)
Juice the beetroots, apples and ginger. Squeeze two oranges. Thinly slice half an orange. Place the fruit juices in a large saucepan together with the water. Bring to a boil, then add the cinnamon stick, gloves, orange slices and two let it simmer for about 5 minutes.
Let everything simmer on low heat for about 20 minutes.
If you're using red wine: Add half a bottle of red wine. Heat it, without bringing to a boil.
Recipe by
Heavenlynn Healthy
at https://www.heavenlynnhealthy.com/beetroot-and-apple-gloegg-hot-wine-punch/