Healthy Gingerbread Cookies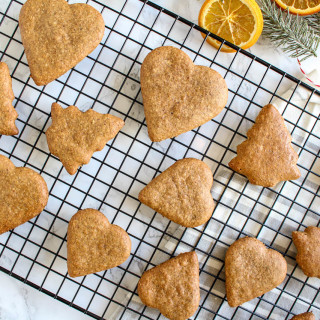 1 cup (125g) of buckwheat flour
½ cup (50g) of oats
⅓ cup (50g) of almonds
1 tablespoon of chia seeds
2 tablespoons of cold water
2 tablespoons of extra virgin coconut oil
½ cup (120g) of almond butter
⅓ cup (80ml) of maple syrup
⅔ cup (70g) of coconut sugar
1 teaspoon of ground ginger
1 teaspoon of cinnamon
1 teaspoon of baking soda
a pinch of salt
Start by placing the chia seeds and the water into a small bowl and whisk together. Place the chia egg into the fridge for about 10 minutes to thicken.
Then grind the almonds into a fine flour in your food processor. If you don't have a food processor then you can use already ground almonds. Set aside.
Place the coconut oil and almond butter, coconut sugar and chia egg into a big bowl or food processor and mix well. Add all remaining ingredients and whisk together until a nice thick dough forms. You might have to add a teaspoon or two of almond milk, depending on the consistency of your dough.
Wrap the dough into plastic wrap and place it into the fridge for at least 30 minutes.
Pre-heat the oven to 180°C (356 F°)
Roll the mixture out between two sheets of baking paper until its perfectly smooth and about 0.5 cm thin. You could also cover the top of a counter and the rolling pin with buckwheat flour and roll out the dough on the counter. I prefer the method with baking paper because it is a lot less messy.
Using your favorite shaped cutters, cut out your gingerbread cookies and place them on a baking tray that you aligned with baking paper. Once you have used the first batch of dough, re-roll the remaining dough to make even more cookies. Repeat this procedure until you have transformed all of your dough into gingerbread cookies.
Bake the cookies for 20 - 25 minutes until golden brown. The exact baking time will vary depending on your oven.
Leave them to cool before eating.
If you prefer your cookies to be less sweet, then feel free to reduce the amount of maple syrup in this recipe.
Recipe by
Heavenlynn Healthy
at https://www.heavenlynnhealthy.com/healthy-gingerbread-cookies/