Moroccan Spiced Chickpea, Kale and Sweet Potato Stew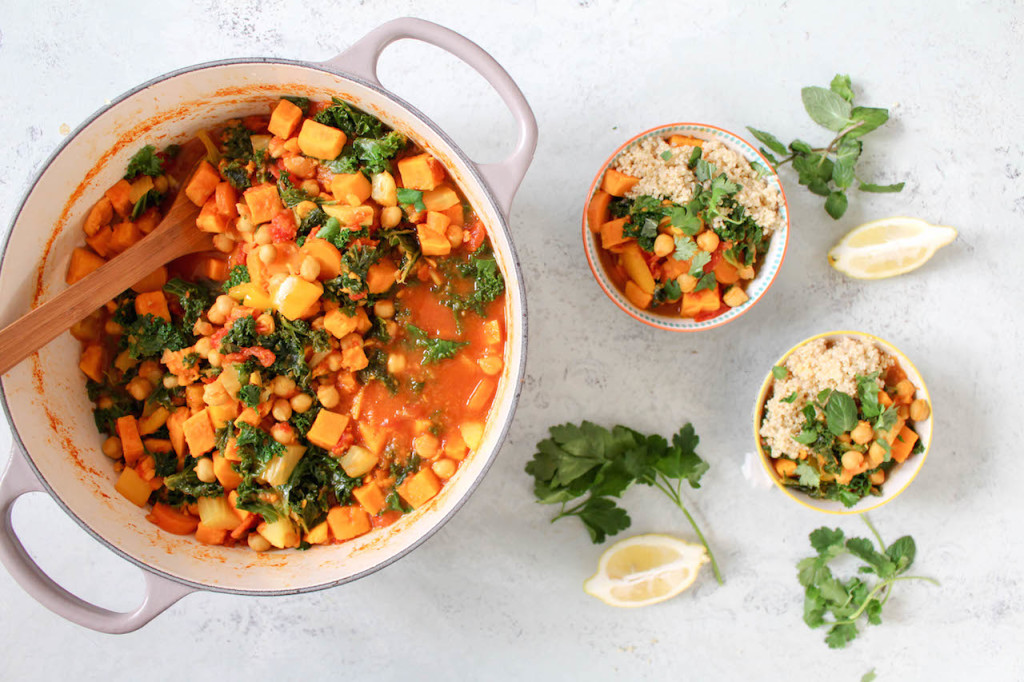 Author:
Heavenlynn Healthy
2 cups (340g) of uncooked quinoa
1 teaspoon of apple cider vinegar (optional)
2 tablespoons olive oil
3 cloves garlic
1 onion
1 teaspoon paprika
1 teaspoon ground cumin
1 teaspoon ground coriander
1 teaspoon turmeric
½ teaspoon ground ginger
½ teaspoon ground cinnamon
½ teaspoon of sea salt
½ teaspoon ground black pepper
a pinch of cayenne pepper
2 sweet potatoes (mine weighed about 1000g)
2 carrots
1 small bulb fennel
1 can of diced tomatoes
3 cups (750ml) of water
2 tablespoons of homemade vegetable stock paste
2 cans (total of 800g) of chickpeas
1 lemon
4 large handfuls of kale or spinach
fresh herbs to serve (I used fresh mint, parsley and cilantro)
Start by prepping your vegetables: dice the onion and mince the garlic. Peel and cut the carrots and sweet potatoes into bite-sized pieces. Remove the outer layers from the fennel, remove its core and finely chop it. Wash the kale and remove it the leaves from the stem.
In a large dutch oven or pot, heat the olive oil over medium to high heat. Add the chopped onion and garlic and sauté for 2 minutes. Then add all the spices and sauté until you can really smell the flavor.
Add the water, vegetable stock paste and diced tomatoes and bring to a boil over high heat.
Add the sweet potatoes, carrots, and fennel. Reduce the heat to medium-low, and let simmer for 15-20 minutes until the sweet potatoes are almost tender.
In the meantime, cook the quinoa with 1 teaspoon of apple cider vinegar, one teaspoon of lemon juice and a pinch of salt according to directions on the package. Once you can see small rings form around the quinoa seeds, drain the water and set aside.
Now add the chickpeas to the stew and cook for another 10 minutes. Add the kale right before serving, and stir to combine. Season with additional salt, according to your taste.
Serve with the quinoa, fresh herbs and a pinch of lemon juice.
Recipe by
Heavenlynn Healthy
at https://www.heavenlynnhealthy.com/moroccan-spiced-chickpea-kale-and-sweet-potato-stew/