Eggplant Curry with Roasted Chickpeas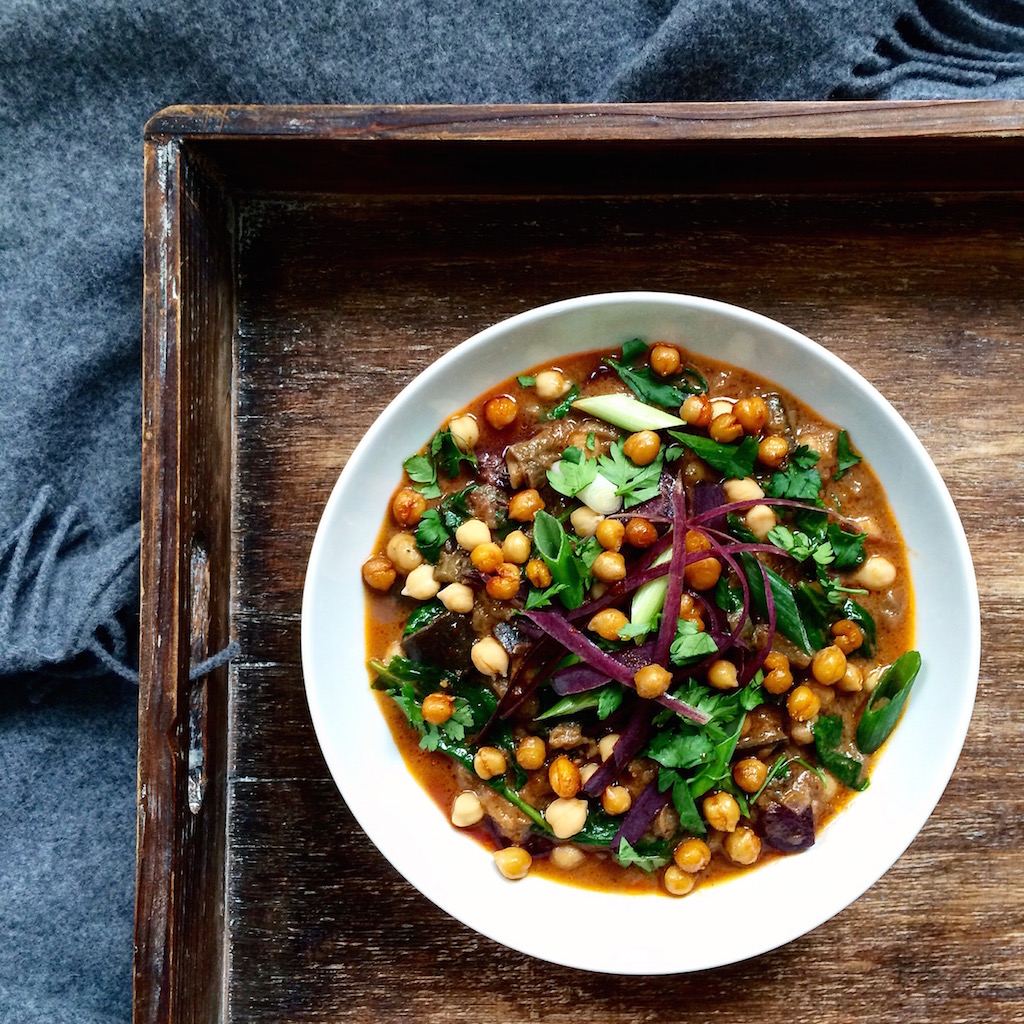 1 onion
1 garlic clove
2 eggplants
3 carrots (purple or regular)
3 big handful of baby spinach
1 can of chickpeas, rinsed
1¼ (about 300 ml) of coconut milk
1 tablespoon of tomato puree
1 tablespoon of coconut oil
1 tablespoon of extra virgin olive oil
turmeric
coriander
ginger
fennel seeds
thyme
rosemary
chili flakes
fenugreek
paprika (mix a pinch of all herbs to a curry mix and adjust according to taste)
chickpeas
fresh cilantro
scallions
Finely chop the onion and garlic. Heat the coconut oil in a large pot or dutch oven, then add the onion and garlic and sauté for about a minute on high heat until they become translucent. Add the tomato puree, cubed eggplant, carrots and dried herbs and sauté for another 2 - 3 minutes on medium to high heat. Add the coconut milk, bring to a boil, then reduce the heat and let it cook for about 20 minutes over medium to low heat.
Pre-heat the oven to 180°C (360°F).
While the curry cooks, add half of the chickpeas to a bowl, and add one tablespoon of olive oil and a bit of sea salt, and mix everything together. Roast the chickpeas in the oven at 180°C (360°F) for about 20 minutes until they are nicely crunchy. Take them out, whisk them in a bit of cayenne pepper and set aside.
Add the spinach and the other half of the chickpeas to the curry and let it cook for another 5 minutes or until the spinach is wilted.
Season with salt, pepper and chili according to your taste.
Serve with fresh cilantro, chopped scallions, the roasted chickpeas, brown rice or naan.
Recipe by
Heavenlynn Healthy
at https://www.heavenlynnhealthy.com/heavenlynns-friends-eggplant-curry-with-roasted-chickpeas-by-kathrin/