Quick Buckwheat and Vegetable Stir Fry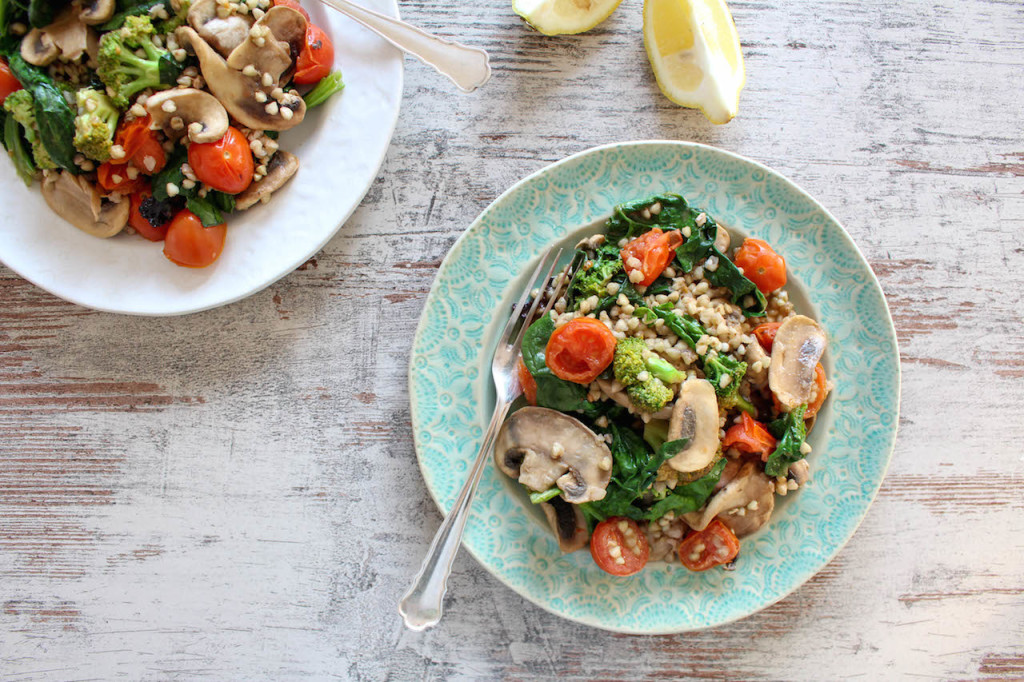 ½ cup (120g) of buckwheat (use certified gluten-free if allergic)
1 teaspoon of apple cider vinegar
9 - 10 mushrooms (ca. 125g)
3 large handful of baby spinach
10 cherry tomatoes
½ broccoli
1 tablespoon of native coconut oil or extra-virgin olive oil
1 garlic clove (optional)
a pinch of chili flakes
2 tablespoons of maple syrup or honey
2 tablespoons of tahini
2 tablespoons of tamari (or soy sauce)
the juice of ½ lemon
Place the buckwheat into a pot and cover it with 2 cups (500ml) of water and one teaspoon of apple cider vinegar. Bring to a boil on high heat, then lower the heat and let it simmer for 12 - 15 Minutes.
In the meantime, wash the vegetables. Cut the mushrooms into thin slices, cut the tomatoes in half, and the broccoli into bite-sized pieces.
Heat the coconut or olive oil in a saucepan, and add the crushed garlic. Sauté for about a minute before adding the broccoli. Cook it for about 5 minutes, then add the tomatoes and mushrooms. Add the ingredients for the dressing (juice the lemon for this), and cook it until the mushrooms and tomatoes are soft.
Then add the spinach and cooked buckwheat and combine everything until the spinach is wilted.
Serve immediately.
Recipe by
Heavenlynn Healthy
at https://www.heavenlynnhealthy.com/quick-buckwheat-and-vegetable-stir-fry/