Harissa Spiced Sweet Potato Wedges with Spicy Avocado Dip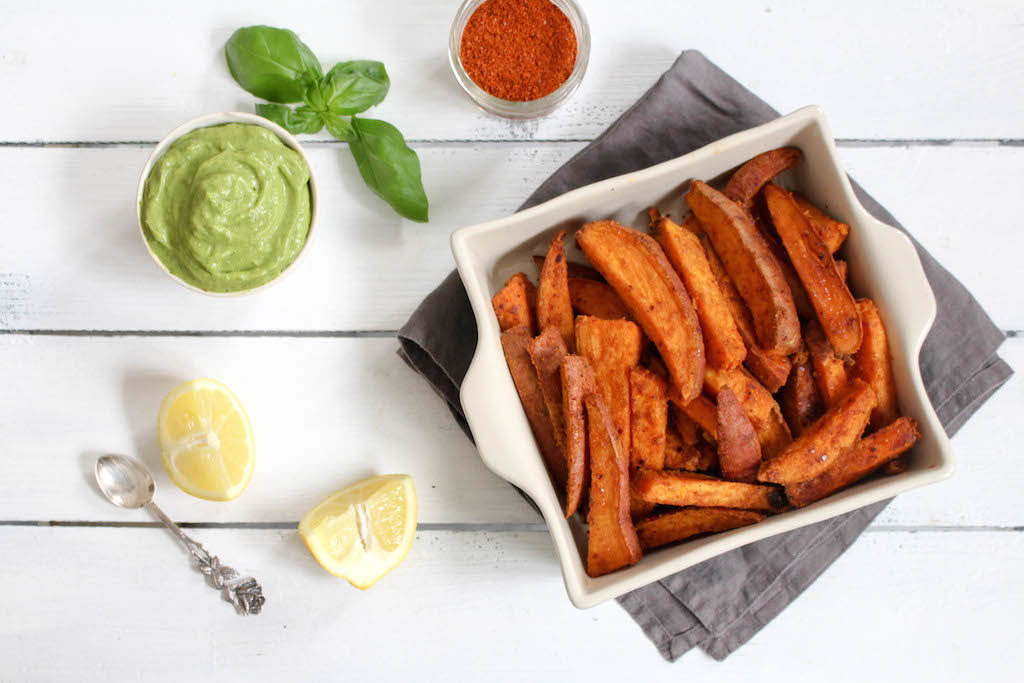 2 large sweet potatoes
2 tablespoons of extra-virgin olive oil
2 teaspoons of harissa spice mix
1 tablespoon of (certified gluten free) buckwheat flour
2 very ripe avocados
2 tablespoons of extra-virgin olive oil
2 handful of fresh basil
¼ teaspoon of chili flakes, more or less depending on how spicy you like it
a squeeze of fresh lemon juice
sea salt
Pre-heat the oven to 180°C (360°F).
Wash the sweet potatoes and cut them into wedges. Leave the skin on!
In a large bowl, combine sweet potatoes, olive oil, buckwheat flour and harissa, and mix well until every sweet potato wedge is covered.
Place the sweet potatoes on a baking sheet that you aligned with baking paper and cook for 25 - 30 minutes. The time may vary depending on the strength of your oven. Do not let them burn.
Cut the avocados in half, remove the stone and scoop out the flesh with a spoon. Combine all ingredients in a food processor and blend well until it has transformed into a smooth avocado cream. Add salt and chili flakes according to taste.
Serve the sweet potatoes with the avocado dip.
Recipe by
Heavenlynn Healthy
at https://www.heavenlynnhealthy.com/harissa-spiced-sweet-potato-wedges-spicy-avocado-dip/