Grilled Avocado Bruschetta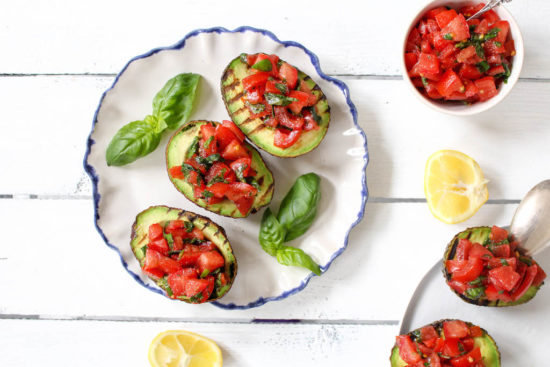 3 ripe avocados
4 ripe tomatoes
1 -2 tablespoons of extra-virgin olive oil
1 garlic clove
1 handful of fresh basil, more to decorate
a squeeze of fresh lemon juice
sea salt
freshly ground pepper
Cube the tomatoes and remove the seeds. Finely chop the basil and the garlic clove.
Mix the tomato cubes, basil, olive oil and garlic in a bowl, and season with sea salt, freshly ground pepper and a squeeze of fresh lemon juice.
Cut the avocados in half, remove the seed, and grill the avocados face down for about 2 to 3 minutes, until they are warmed up.
Fill the avocado halves with 1 or 2 tablespoons of tomato cubes, and sprinkle some more fresh basil on top.
Recipe by
Heavenlynn Healthy
at https://www.heavenlynnhealthy.com/grilled-avocado-bruschetta/