Video: Green Spring Smoothie with Mint and Basil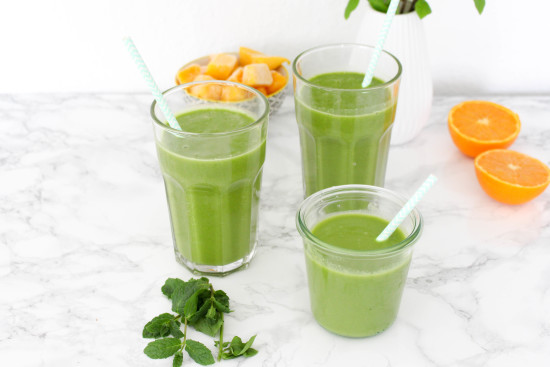 ½ cup (120ml) of freshly squeezed orange juice
½ cup (120ml) of water
1 handful of spinach
1 handful of mint leaves, less or more according to taste
1 handful of basil leaves
100g of frozen mango
1 small banana
½ cucumber
½ avocado
To prepare: Sqeeze the oranges. Cut the avocado in half, remove the stone, and scoop out the flesh with a spoon. Wash the spinach and mint and basil leaves if necessary. Peel the banana. Cut the cucumber in half, and cut half of it into bite-sized pieces.
Place all the ingredients into a blender and blend until creamy and smooth. Add more water or orange juice if it is too creamy for you.
Serve immediately in glasses or enjoy it as a smoothie bowl topped with your favorite toppings.
Recipe by
Heavenlynn Healthy
at https://www.heavenlynnhealthy.com/video-green-spring-smoothie-mint-basil/