Rhubarb Oat Bars with Streusel Crumb Topping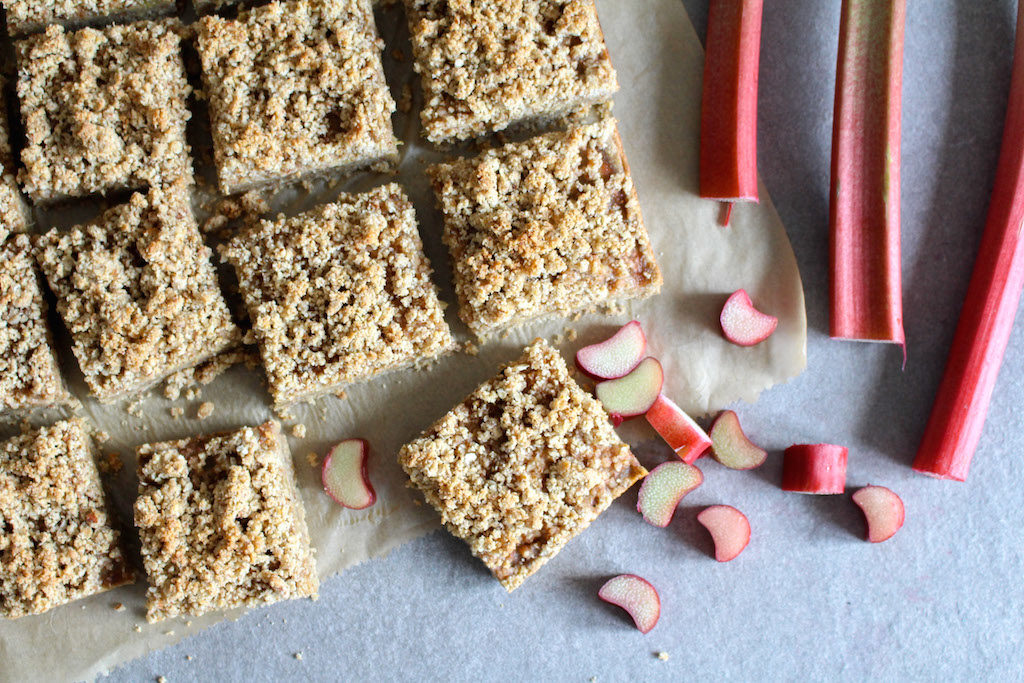 6 cups (600g) of (gluten free) oats
2 cups (300g) of almonds
⅔ cup (140g) of coconut oil
2 ripe bananas
½ cup (120ml) of maple syrup
2 tablespoons of coconut sugar
¼ cup (60ml) of almond milk
2 tablespoons of chia seeds + 6 tablespoons of cold water
1 teaspoon of aluminum-free baking powder
1 teaspoon of vanilla powder
a pinch of salt
10 cups (1000g) of fresh or frozen rhubarb
4 tablespoons of maple syrup
4 tablespoons of chia seeds
a pinch of vanilla
1 cup (100g) of (gluten free) oats
1 cup (150g) of almonds
2 tablespoons of coconut oil
4 tablespoons of maple syrup
a pinch of cinnamon
Start by making the rhubarb chia jam. Slice the rhubarb into bite-sized cubes, and put them into a medium saucepan together with the maple syrup. Heat over medium heat while stirring it frequently and breaking down the rhubarb, leaving some for texture. Bring to a quick boil, then reduce the heat to low, and add the chia seeds. Stir for a couple of minutes, and then remove it from the heat and let it cool down and thicken.
Place the almonds and oats into a food processor to break them down into a flour. Place the flour into a mixing bowl with all the other dry ingredients, and mix everything well. Combine the chia seeds with the water in a small bowl and let it thicken for at least 10 minutes, Mash the bananas in a mixing bowl with a fork.
Heat the coconut oil in a small saucepan over low heat, and add the maple syrup. Remove the pan from the heat and pour the coconut maple syrup mix over the dry ingredients. Add the banana and chia mix, and mix everything well with a hand mixer or a wooden spoon.
Gradually add the almond milk to reach the desired consistency. You want a crumbly, but still slightly sticky dough texture. Add more almond milk if necessary.
Line a 17 x 15 inches baking tray (or two 8 x 8 inch square baking trays) with baking paper. This is a tough task, because the dough can be quite sticky and hard to spread. It helps if you get someone to hold the baking paper.
Evenly spread the rhubarb chia jam on top of the base.
Pre-heat the oven to 180°C (360°F).
Place the oats and almonds into a food processor, and pulse for a few times until it is nicely broken down into a flour, but still contains some pieces of almonds. Heat the coconut oil, honey and cinnamon in a small saucepan over low heat. Add the sticky coconut oil mix to the oats and almonds, and mix well in you food processor.
Using your hands, crumble the streusel on top of the chia jam.
Bake for about 20 - 25 minutes. Check the bars after 15 minutes to see if the streusel start to get brown. If necessary cover the bars with tin foil to avoid burning for the rest of the time. The bars need to be baked for at least 20 minutes, so the base gets heated all the way through.
Take the bars out of the oven and let them cool for at least 10 minutes before serving.
Enjoy!
Recipe by
Heavenlynn Healthy
at https://www.heavenlynnhealthy.com/rhubarb-oat-bars-streusel-crumb-topping/