Healthy Blueberry Buckwheat Waffles with Berry Chia Sauce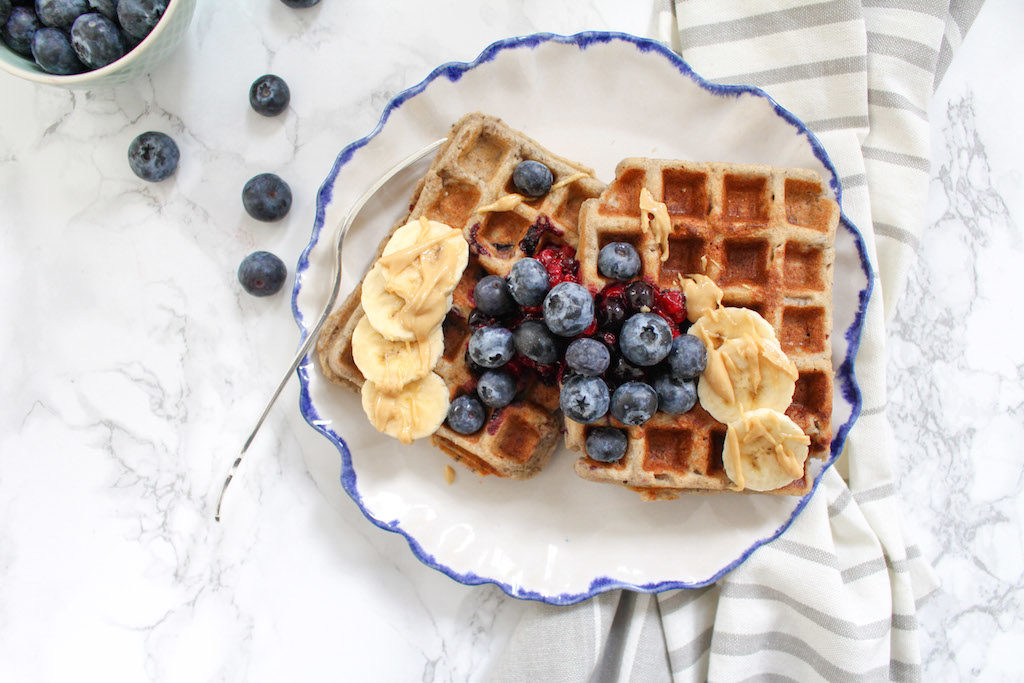 1¼ cup (150g) of buckwheat flour
1 cup (100g) of oats, use gluten-free for the GF version
½ cup (120ml) of sparkling water
2 teaspoons of aluminum-free baking powder
2 tablespoons of extra virgin coconut oil, more for frying
2 tablespoons of almond butter, or any other nut butter
2 tablespoons of maple syrup, rice syrup or honey
2 tablespoons of chia seeds + 6 tablespoons of cold water
2 tablespoons of oat or almond milk, or any other plant-based milk
1 handful (ca. 50g) of fresh blueberries
½ teaspoon of apple cider vinegar
½ teaspoon of cinnamon (optional)
a pinch of salt
2 cups (500g) of fresh or frozen berries (blueberries, raspberries, blackberries, red currants)
2 tablespoons of chia seedsEL Chia-Samen
2 tablespoons of maple syrup, rice syrup or honey
Add the oats to a food processor and blend until a flour forms.
Combine oat flour, buckwheat flour, aluminum-free baking powder, cinnamon and salt in a bowl and mix well with a wooden spoon.
In a separate small bowl, combine the chia seeds and water, and let it sit for at least 10 minutes to thicken. Stir frequently.
Combine the plant based milk and apple cider vinegar in a third bowl, and let sit for 10 minutes as well.
Add the coconut oil, almond butter, maple syrup (or sweetener of your choice), chia mix, and plant based milk mix to a food processor and mix well until a wet mixture forms. Alternatively you can use a hand mixer or a spoon to mix the batter.
Now add the dry ingredients to the wet ingredients and mix well. Finally, add the sparkling water one tablespoon at a time. Cut the blueberries in half, and carefully mix it into the batter using a spoon.
Let the batter sit for at least thirty minutes.
In the meantime, prepare the berry chia sauce.
Combine the fresh or frozen berries with the maple syrup (or sweetener of your choice) in a saucepan. Heat them at medium to high temperature while stirring frequently. Reduce the heat and let simmer for 5 minutes, while breaking down the berries with a spoon. Leave some for texture.
Now add the chia seeds and let it thicken on low heat while stirring frequently. Set the sauce aside to thicken even more.
To make the waffles, grease a waffle maker und use about three tablespoons of batter per waffle. Bake them at low heat, never on high heat, because the batter needs a while longer than regular waffle batter.
Serve them with the berry chia sauce, fresh blueberries, banana slices or almond butter.
Recipe by
Heavenlynn Healthy
at https://www.heavenlynnhealthy.com/healthy-blueberry-buckwheat-waffles-berry-chia-sauce/