Video: Home made almond butter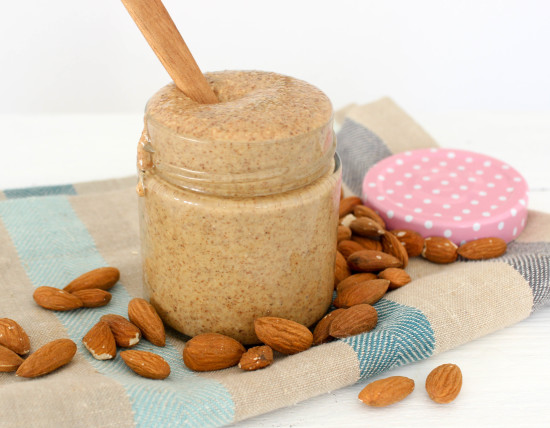 2 cups (about 350g) almonds
a pinch of salt
½ tsp cinnamon (optional)
Start by roasting the almonds. Pre-heat the oven to 180°C and pour the almonds onto a baking tray. Roast them for about 8 - 10 minutes until you can small their nutty flavor. Take the tray out of the oven and let the almonds cool entirely. This is very important otherwise the recipe may not work.
Once the almonds have cooled down completely, place them into your food processor together with the salt and cinnamon (optional) and blend on high for about 5 minutes. Scrape down the side of your food processor if necessary and blend for another 5 minutes. Do take little 30 seconds breaks in between to ensure your food processor doesn't shut down due to heat. After 10 minutes of blending, the almond butter should already have a nice creamy texture. If it doesn't then you need to blend it for another 5 minutes or so until you reach the desired creamy texture.
Stored in an air-tight glas container and in the fridge it should last 2 - 3 week.
Recipe by
Heavenlynn Healthy
at https://www.heavenlynnhealthy.com/video-home-made-almond-butter/