Stuffed Mushrooms with Cashew Basil Cream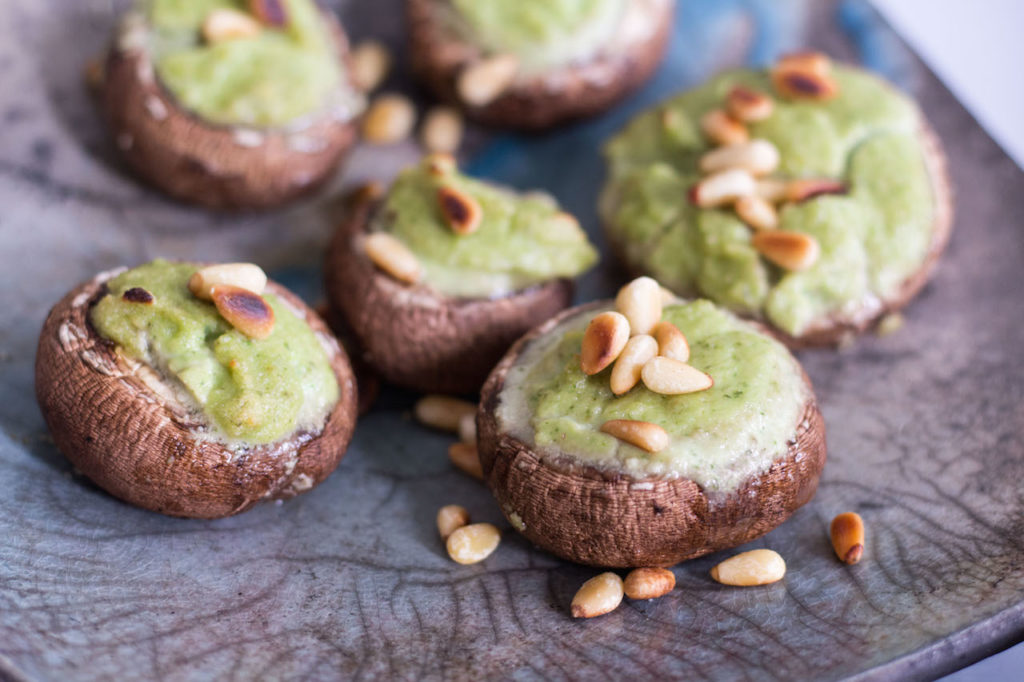 8 larger mushrooms
¾ (115g) cup of cashews
1 handful of fresh basil
2 tablespoons of coconut milk (full-fat)
the juice of ½ lime
¼ cup (60ml) of water
2 tablespoons (30g) of pine nuts
½ tsp of sea salt
pepper to taste
Soak the cashews in fresh water for about 30 minutes to an hour.
Drain the nuts, and add them to a blender or food processor together with all the other ingredients. Blend until a smooth cream forms. Add more water, one teaspoon at a time, if your blender isn't strong enough.
Stuff the mushrooms with about 1 to 2 teaspoons of cashew basil cream each. Place them on the barbecue for about 10 - 15 minutes until the mushrooms are cooked through. Alternatively you can bake them in the oven at 180 °C for about 15 - 20 minutes. The exact time will vary depending on the heat of your barbecue and oven. The mushrooms are done when they turn wrinkly, and moist.
In the meantime, roast the pine nuts in a pan without oil until they are golden brown. This takes very little time, probably between 3 - 5 minutes, so watch them carefully so they don't burn.
Sprinkle the pine nuts on top of the stuffed mushrooms and serve immediately.
Recipe by
Heavenlynn Healthy
at https://www.heavenlynnhealthy.com/stuffed-mushrooms-cashew-basil-cream/