Summer Roll Bowl with Peanut Lime Sauce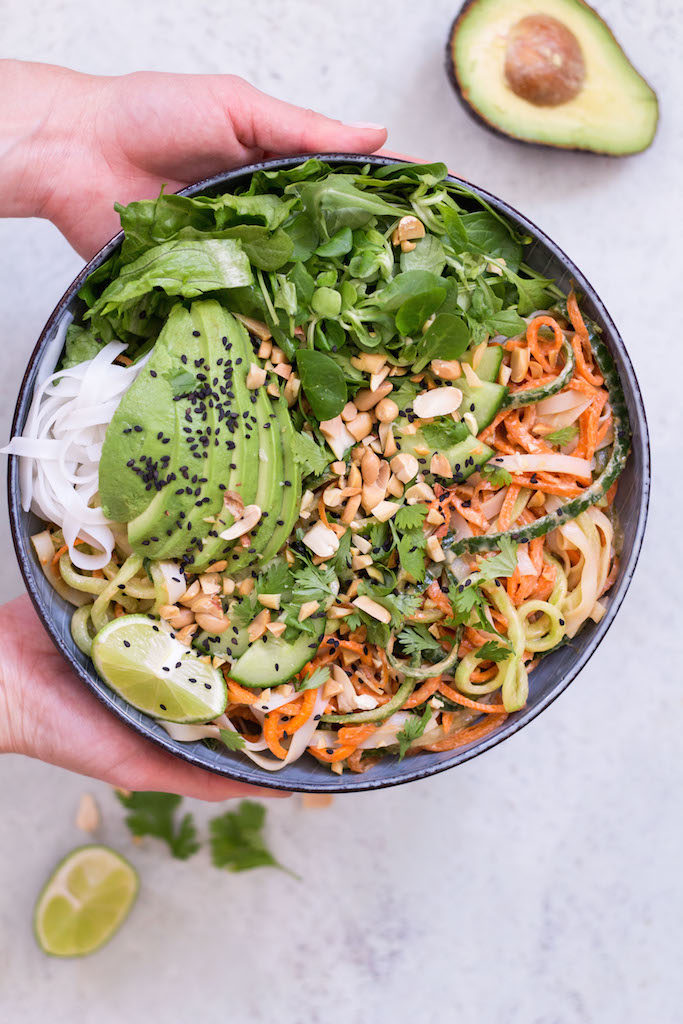 1 cup cooked rice noodles, try to find brown rice noodles
2 carrots
1 avocado
½ cucumber
½ red bell pepper
5-8 romaine leaves or salad greens of your choice
1 handful of fresh thai basil
1 handful of fresh cilantro
a few mint leaves
1 tablespoon of dark sesame seeds
¼ cup of chopped peanuts
1 garlic clove
1 thumb-sized piece of organic ginger
3 tablespoons of gluten-free tamari or GMO-free soy sauce
3 tablespoons of maple syrup
1 lime
⅓ (85 g) cup of peanut butter
¼ (60 ml) cup of water (more or less as needed)
Juice the lime. Blend or mix together all the ingredients until smooth.
Wash the salad, chop the herbs, and cut the avocado in half. Remove the pit (you can use this in smoothies!) and slice the flesh. Slice all the veggies or use a spiralizer to make them even thinner.
Add all the salad ingredients to a bowl, and garnish with the herbs, sesame seeds and peanuts. Sprinkle with the peanut lime sauce and serve immediately.
Recipe by
Heavenlynn Healthy
at https://www.heavenlynnhealthy.com/summer-roll-bowl-peanut-lime-sauce/