Healthy Strawberry Galette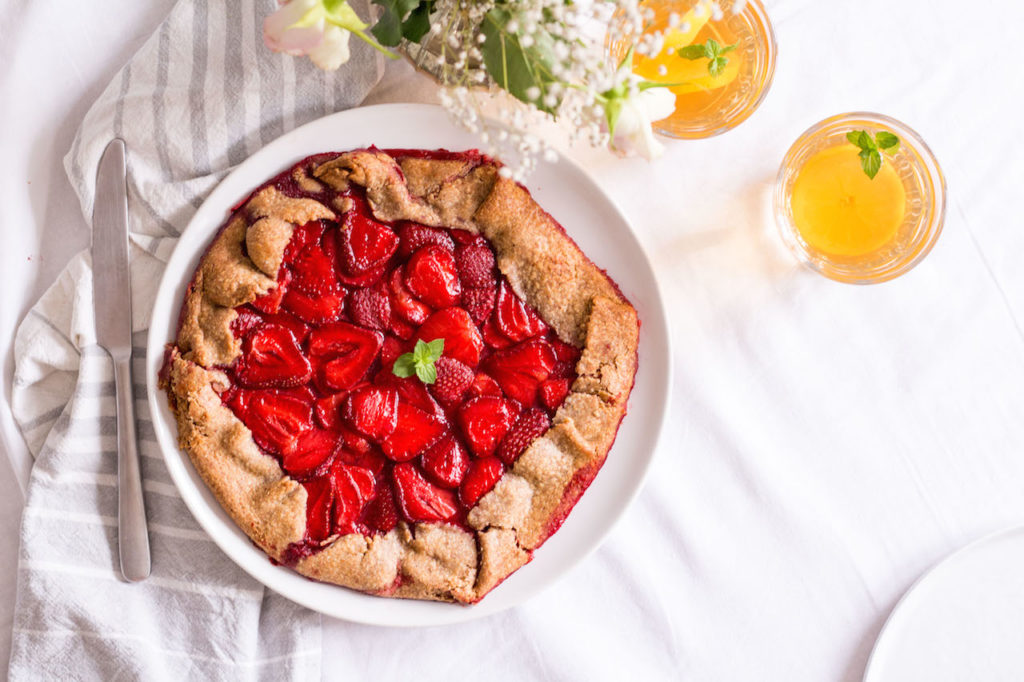 ½ cup of almonds
¾ cup of buckwheat flour
1 tablespoon of coconut sugar
⅓ cup of native coconut oil
1 -2 tablespoons of ice cold water
a pinch of salt
2½ cups (300g) of strawberries
1 tablespoon of arrow-root powder or buckwheat flour
2 tablespoons of coconut sugar
the juice of ½ small lemon
Place the almonds into a food processor, and process until you have a fine flour. Add the buckwheat flour, coconut sugar, salt and buckwheat flour and mix for a few seconds. Add one tablespoon of ice water until you have a nice crumbly dough. It should be moist, but still crumbly. You might need a third tablespoon of water if the dough is too dry.
Put the dough into a bowl and cover it with a towel, and place it into the fridge for one hour.
In the meantime, prep the filling by slicing the strawberries, and combining them with the other ingredients.
Pre-heat the oven to 180°C (360°F). Take the dough out of the fridge and knead once or twice so it becomes smooth. You do not want it to get too warm though.
Roll out the dough between two sheets of baking paper. You don't want the galette to be too thin, or it will break too easily. Cut the edges of the galette, so it has a nice round shape. Scoop the strawberry mix into the middle of the galette and fold the edges of the dough in over the strawberries.
Cook for 30 minutes, then cover the galette with aluminum foil to prevent the top from becoming too dark. Cook for another 10 - 15 minutes until the dough is golden brown and delicious.
Remove the galette from the oven and let cook for at least 20 minutes allowing the dough can harden.
Recipe by
Heavenlynn Healthy
at https://www.heavenlynnhealthy.com/healthy-strawberry-galette/