Baked Berry Oatmeal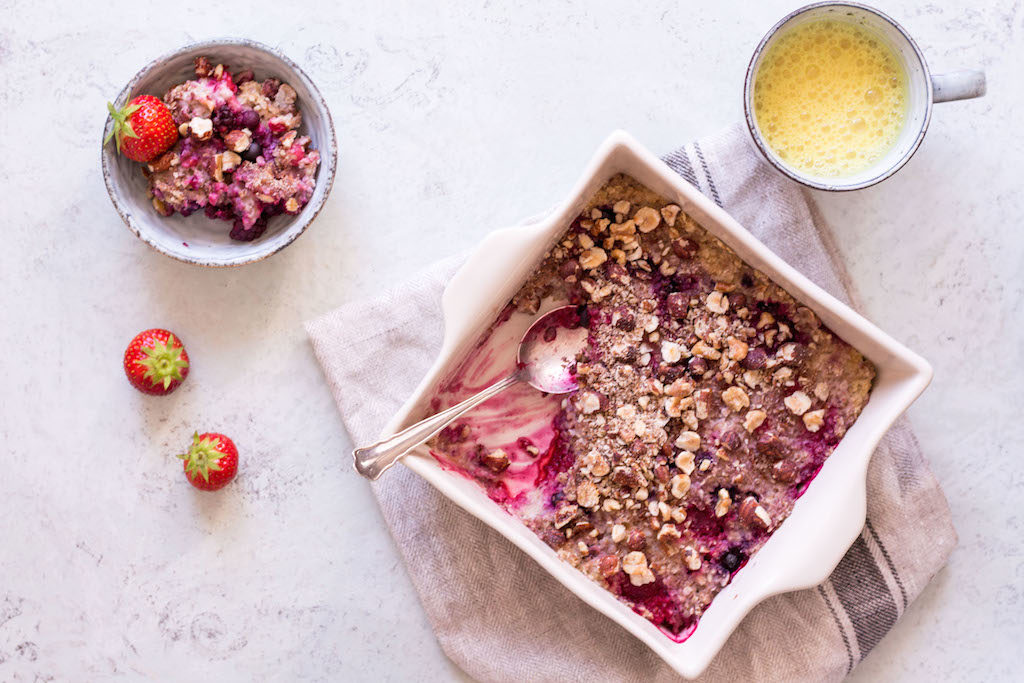 ½ cup (90g) of (certified gluten free) oats
1 cup (100g) of mixed berries (e.g. blueberries, raspberries, blackberries)
¼ cup (30g) of mixed nuts (I like walnuts and hazelnuts)
⅓ cup (80ml) of unsweetened almond milk
1 teaspoon of cinnamon
¼ tsp of ground vanilla
1 teaspoon of honey (use rice or maple syrup if vegan)
a pinch of sea salt
Pre-heat the oven to 180°C.
Place the oats in a saucepan and cover them with 1 cup (250ml) of boiling water. Let them soak for about 10 minutes. While the oats soak, roughly chop the nuts.
Once the oats have absorbed the water, add the mixed berries, almond milk, and honey (or syrup of choice), and give it a stir.
Place all the ingredients into a baking dish that you greased with coconut oil (or aligned with baking paper). Sprinkle the nuts on top, gently pressing them into the oatmeal using a spoon.
Bake for 20 - 25 minutes until the top has browned. Watch the oatmeal carefully while baking, you might need to cover it with aluminum foil after 15 minutes so the nuts on top do not burn.
Enjoy with additional berries (I love it with fresh strawberries) or a big dollop of coconut yoghurt.