Tamari sautéed mushroom salad with rocket and honey mole dressing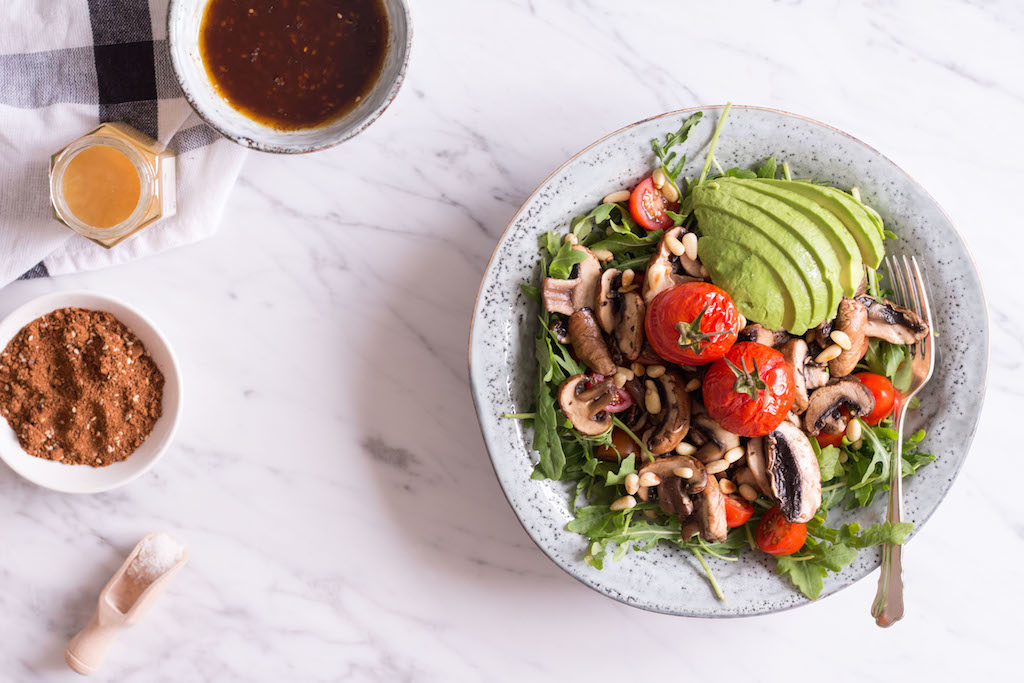 2 handful of fresh rocket (arugula)
about 8 large brown mushrooms (300g)
2 tablespoons of tamari (or soy sauce)
2 cups (about 200g) of cherry tomatoes
2 tablespoons of pine nuts
4 mid-sized tomatoes with the greens
3 tablespoons of extra-virgin olive oil
2 tablespoons of apple cider vinegar
1 teaspoon of mole spice, see below
1 teaspoon of raw honey
½ teaspoon of cinnamon
½ teaspoon of paprika
a pinch of salt
a pinch of pepper
a pinch of cayenne pepper
1 tablespoon of raw cacao powder, or regular cocoa
1 tablespoon toasted sesame seeds
½ teaspoon of chili flakes
1 teaspoon of cumin
½ teapoon all spice
½ teaspoon of vanilla powder
¼ teaspoon of ground anise
¼ teaspoon of ground cloves
Pre-heat the oven to 180°C.
Wash and dry the vegetables. Cut the cherry tomatoes in half, and slice the mushrooms. Combine all ingredients for the dressing in a small bowl and whisk with a fork. Mix the mole spice in a separate bowl and store in an airtight container. Set aside.
Place the mid-sized tomatoes into the oven and roast them for about 10-15 minutes, until they start to wrinkle.
Heat the pine nuts in a small saucepan without oil for about 3 - 4 minutes or until brown. Watch them carefully, as they burn quickly. Set aside.
Now heat the mushrooms in a saucepan without oil on high heat. Reduce the heat once they start to release their moisture. Now add the tamari and sautée the mushrooms for about 5 minutes.
Place the rocket onto two salad plates, add the cherry tomatoes, tamari sautéed mushrooms and roasted tomatoes, and sprinkle the salad with the pine nuts. Finally pour the dressing on top and serve immediately.
If you don't have all the ingredients for the mole spice mix in stock, then simply use raw cacao powder in the dressing. It will taste just as delicious.
Recipe by
Heavenlynn Healthy
at https://www.heavenlynnhealthy.com/tamari-sauteed-mushroom-salad-mole-dressing/