Oriental Chickpea Salad à la May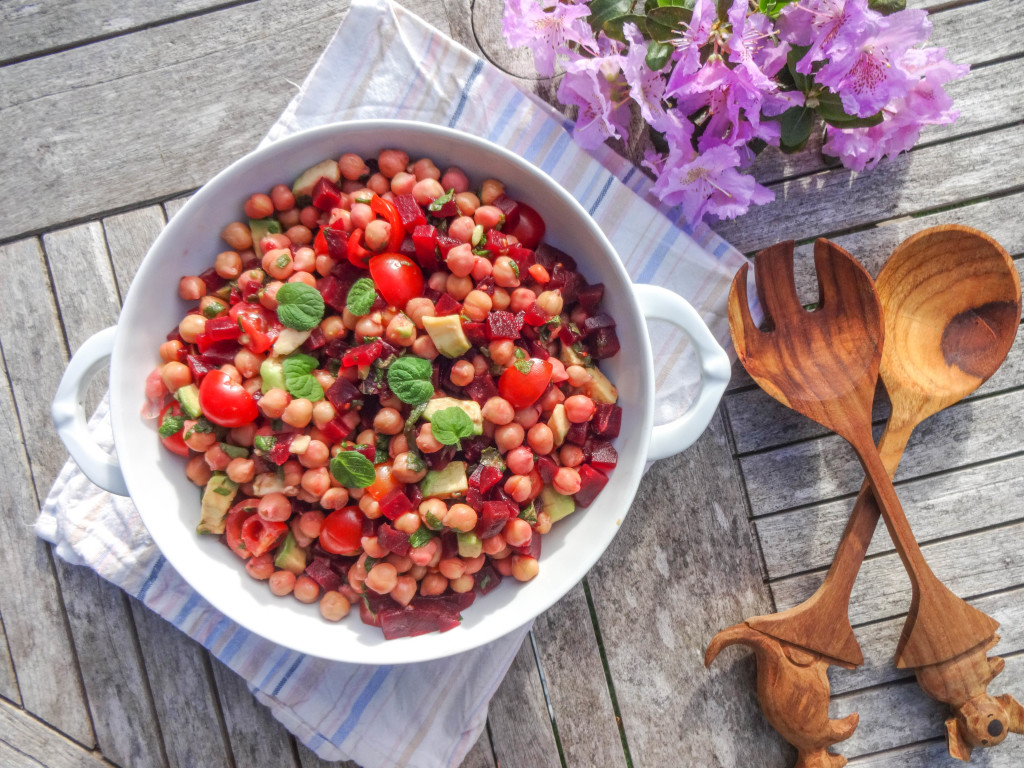 1 can of chickpeas (or one cup raw chickpeas soaked in water over night)
3 pre-cooked beets
1 red pepper
1 cup (150g) cherry tomatoes, cut into fourth
a good handful of fresh mint, chopped
70 g feta cheese (leave out or substitute with Avocado for a vegan option)
3 tbs apple cider vinegar
1 tbs agave
salt and pepper to taste
Start by pre-heating the oven to 200°. Wash the red pepper, cut it in two halves and remove the seeds and the white insides. Place it onto a baking sheet and roast for about 20 minutes until it turns dark around the edges.
In the meantime, rinse the chickpeas well and place them into a large bowl. Cut the beets into little cubes or place them into a food processor for one pulse and add them to the bowl. Next, add the chopped fresh mint and the tomatoes. Cut the feta cheese into cubes and add it to the other ingredients. You can leave out the feta cheese for a vegan option. It will taste just as great.
Once the red pepper is done, cut it into bite-sized pieces and add it to the bowl. Finally add the apple cider vinegar, the agave, salt and pepper and stir well.
Serve with (gluten-free) bread as a main dish or use it as a side dish.
Recipe by
Heavenlynn Healthy
at https://www.heavenlynnhealthy.com/oriental-chickpea-salad/