Sweet Potato Quinoa Salad with Avocado Mango Salsa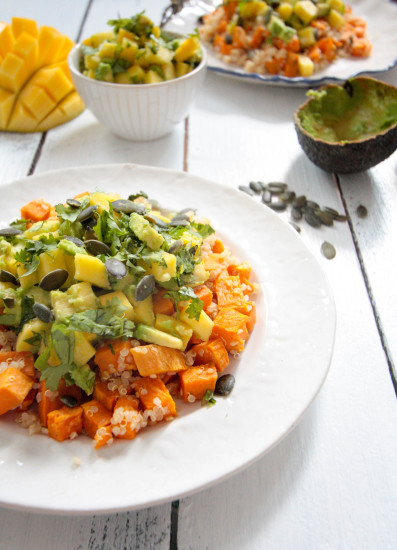 ½ cup (85g) quinoa
1 ripe mango
1 ripe avocado
1 cup (200 g) sweet potatoes
1 large handful of cilantro
¼ cup (60g) pumpkin seeds
3 tbsp apple cider vinegar
1 tbsp olive oil
1 tsp agave
½ tsp salt
¼ tsp pepper
Start by rinsing the quinoa, then fill a medium saucepan with 2 cups of water and add the quinoa and 1 tbsp apple cider vinegar. Bring to a boil, then lower the heat to medium-low and cook for about 20 minutes.
In the meantime, peel the sweet potatoes and cut them into cubes. Put them into a medium-sized saucepan and add water until the potatoes are completely covered. Bring to a boil, then lower the heat to medium-low and cook for about 10-15 minutes until fork-tender. Drain the water and place the sweet potato cubes into a bowl.
Next, peel and cut the mango into cubes and add it to the potatoes. Remove the pit from the avocado, take out the flesh with a spoon, cut the flesh into cubes, and add it to the mango and potatoes. Chop the cilantro and add it to the bowl. Leave some leaves for decoration.
When the quinoa is done (it should have become a bit translucent and there should be little white rings around the grains), drain the water and add the quinoa to the other ingredients.
Now make the dressing with the olive oil, apple cider vinegar, agave, salt and pepper, and pour it over the salad.
Add the pumpkin seeds to a pan (no oil), and heat it up for a few minutes until they are nicely roasted. Be sure to watch them carefully as they burn quickly. Remove the pan from the heat and sprinkle the pumpkin seeds on top of your salad.
If you want to serve this salad the fancy way, use two bowls, one for the avocado mango salsa and one for the quinoa sweet potato mix. Add the dressing to the latter and fill a cup with the salad. Turn the cup upside down onto a plate, remove the cup carefully and add the mango avocado salsa on top of the sweet potato quinoa salad. Sprinkle with some cilantro leaves and the roasted pumpkin seeds. Do this for every one of your guests. They will be impressed.
Recipe by
Heavenlynn Healthy
at https://www.heavenlynnhealthy.com/sweet-potato-quinoa-salad-with-avocado-mango-salsa/