Plum Cake with Buckwheat & Spelt Dough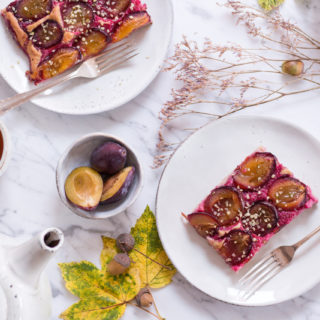 250g buckwheat flour
250g spelt whole wheat or brown rice flour if gluten-free
1 package dry yeast or 40g of fresh yeast if available
2 tablespoons of lukewarm almond milk or water
5 tablespoons + 1 teaspoon of rice syrup or raw honey
250ml of sparkling water
50g extra-virgin coconut oil
1kg of plums
3 tablespoons of coconut sugar (optional)
hemp seeds for decorating (optional)
a pinch of salt
Add the yeast to a small bowl. If you are using fresh yeast, then break it down into small pieces. Slowly add the lukewarm almond milk or water, as well as one teaspoon of rice syrup or honey. Set aside for 10 minutes. The yeast should start to form bubbles, then you know it's been activated.
Next, add all the dry ingredients to a large mixing bowl. Then add the rice syrup or raw honey, coconut oil and sparkling water. Finally, add the yeast mix and knead the dough with your hands or a kitchen machine for 5 to 6 minutes. The dough will be sticky, so using a machine will definitely help here.
Cover the dough with a clean kitchen towel and set aside for 30 minutes so it can double its volume. It helps if you place the bowl in a warm environment, such as the oven set on low heat (30°C or 86°F).
While the dough rests, wash the plums, cut them in half and remove the stones.
Once the dough has doubled its volume, spread it on a baking tray that you greased with coconut oil or aligned with baking paper. Using a spatula or your hands and spread the dough evenly. This will be quite tricky as the dough is very sticky. It helps if you wet your hands before spreading it. Be patient, you will be able to spread the dough eventually. Trust me.
Place the plums on the dough, row after row, until every inch of dough is covered.
Bake at 180°C (360°F) for about 40 minutes. The exact time will vary depending on your oven.
Once the dough is slightly browned, but not burned, take the cake out of the oven. Sprinkle it with coconut sugar if you have a sweet tooth while it's still warm.
I decorated my cake with hemp seeds, but this is totally optional (though a nice additional protein boost).
The cake tastes delicious with whipped coconut creak or coconut yoghurt.
Recipe by
Heavenlynn Healthy
at https://www.heavenlynnhealthy.com/plum-cake-with-buckwheat-spelt-dough/