Homemade Amaranth Pecan Granola Bars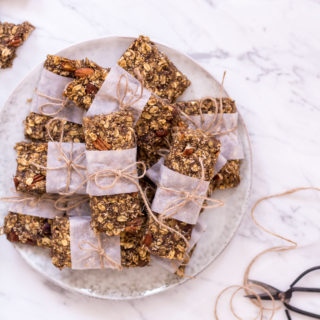 2½ cups (220g) of (gluten-free) rolled oats
1 cup (50g) of puffed amaranth
½ cup (50g) of pecans
½ cup (50g) of almonds or other nuts
1 cup (100g) of chopped dates
½ cup (25g) of coconut flakes
½ cup (40g) of hemp protein powder (or other plant based protein powder)
2 tablespoons of chia seeds + 6 tablespoons of water
2 tablespoons of extra-virgin coconut oil
3 very ripe bananas
1 tablespoon of maple syrup or honey
1 teaspoon of cinnamon
a pinch of ground vanilla
a pinch of salt
Combine the chia seeds and water in a small bowl and let thicken for 10 minutes. Stir after 5 minutes so it thickens evenly.
Roughly chop the nuts or pulse them once in a food processor or blender. Then combine all dry ingredients in a large mixing bowl
Pre-heat the oven to 175°C and grease a baking pan with coconut oil or line with baking paper.
In a blende or food processor, blend the bananas, coconut oil, maple syrup or honey, chia egg and vanilla to a smooth paste. You could also use a fork or a hand mixer for this.
Pour the banana paste over the dry ingredients and mix well. It should be a sticky, not too runny dough. If it is too runny, add a little more oats or puffed amaranth.
Spread the dough evenly in the baking pan. You want it to be roughly 1.5cm (1/2 inch) thick.
Bake the granola bars for 20 - 25 minutes until the edges turn golden brown. The exact cook time will vary depending on your oven.
Once they are golden brown, take them out of the oven and let sit for at least 25 minutes before cutting them in squares or rectangles.
You can store the bars in an air-tight container in the fridge for up to 5 days.
Recipe by
Heavenlynn Healthy
at https://www.heavenlynnhealthy.com/homemade-amaranth-pecan-granola-bars-pecans/