Creamy Pumpkin Alfredo Sauce with Cashews and Sage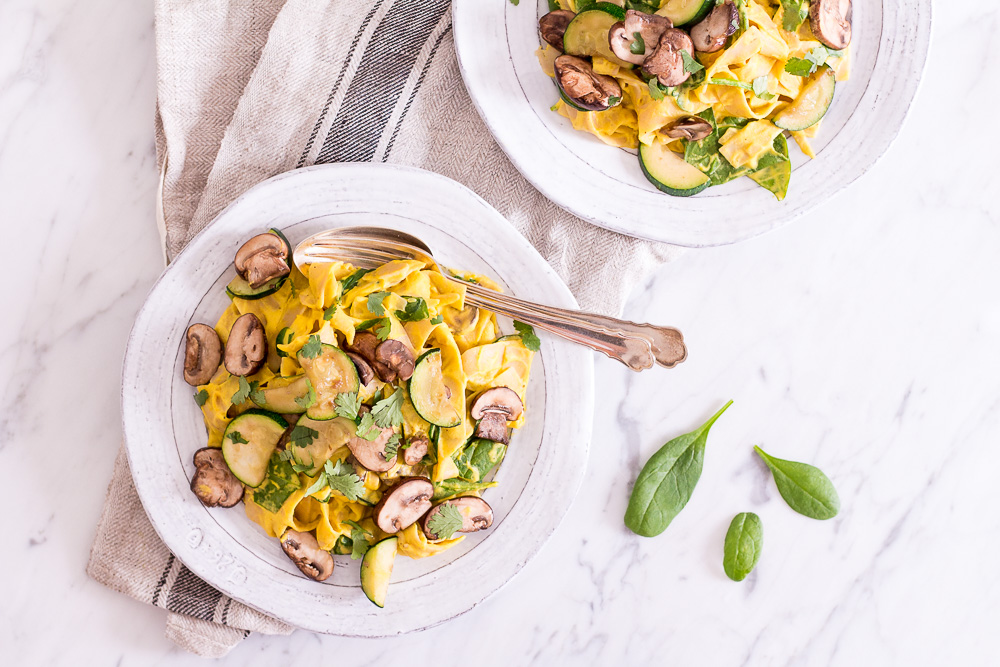 100g of cashews, soaked for at least two hours
250g of pumpkin puree
1 garlic clove
5 sage leaves
1 teaspoon of turmeric
½ teaspoon of cumin
250ml of vegetable broth, preferably homemade
¼ teaspoon of black pepper
salt to taste
1 teaspoon of olive oil
1 garlic clove
300g of mushrooms
1 zucchini
four handful of baby spinach
500g of whole-wheat or gluten free pasta
a pinch of salt
more sage or other herbs (coriander, basil...) to serve
Soak the cashews in clean water for at least two hours, preferably longer. Drain them and put them in a strong blender together with all the other ingredients for the sauce. Blend until you have a fine puree.
Cook the pasta according to instructions on the package. Add a bit of salt to the water if you like.
In the meantime, finely chop the garlic or press it through a garlic press. Wash and cut the mushrooms and zucchini as desired. Thoroughly wash the baby spinach.
Heat the olive oil in a large pan and fry the garlic for a minute or so until fragrant. Now add the vegetables and sauté them for about 5 minutes on medium heat. Add the pumpkin alfredo sauce and heat everything until warm and ready to eat. Add the baby spinach and stir until wilted. Finally, add the drained pasta and re-heat for another two minutes or until warm enough to eat.
Serve with herbs such as more sage, coriander or basil.
If you do not want to use cashews, use 120ml of full-fat coconut mil. You can also substitute the pasta for zucchini noodles for a low-carb option.
Recipe by
Heavenlynn Healthy
at https://www.heavenlynnhealthy.com/creamy-pumpkin-alfredo-cashews-sage/