My favorite healthy pumpkin soup with kale chips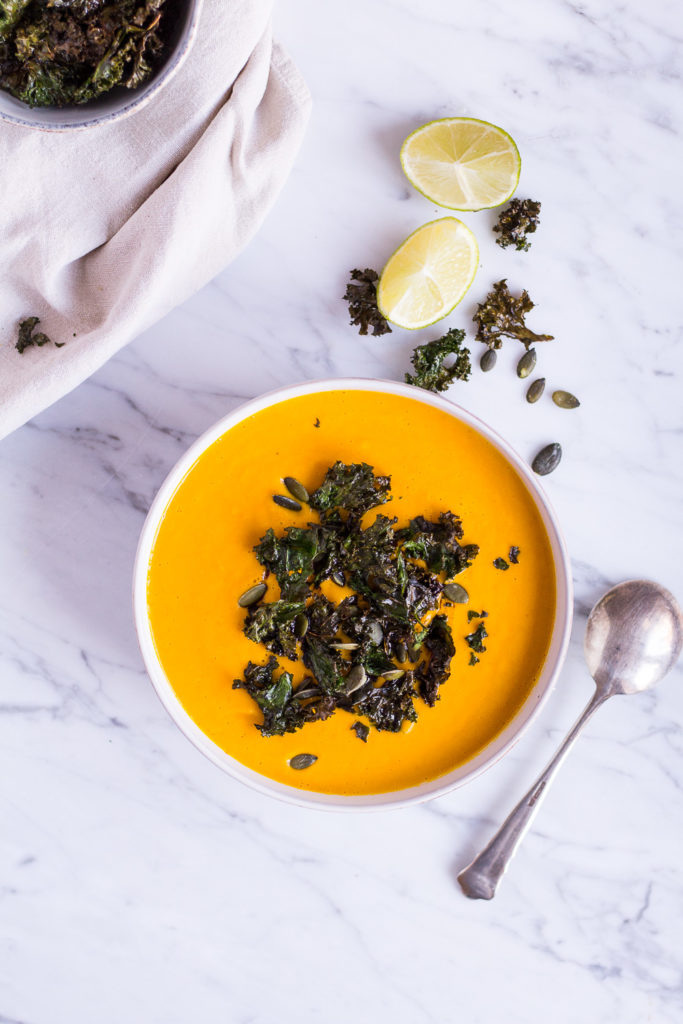 2 hokkaido pumpkins (700g)
1 large apple (about 200g)
2 carrots (about 100g)
4 cm (2 inch) of fresh ginger
2 tablespoons of extra-virgin olive oil
1 onion
1 teaspoons of turmeric
1 teaspoon of cumin
2½ cups (about 725ml) of vegetable broth
½ can coconut milk (200ml)
the juice of one orange
the juice of 2 - 3 limes, I use 3
salt and pepper to taste
4 teaspoons of pumpkin seeds
3 handful of kale
1 - 2 tablespoons of extra-virgin olive oil
a pinch of salt
Cut the hokkaido pumpkin in half, remove the seeds and cut into 1 inch pieces. If you are not using a hokkaido pumpkin, then check if you need to peel your pumpkin first. Peel the carrots and onion and cube both. Remove the core from the apple and roughly cut into bite-sized pieces. Peel and chop the ginger.
Heat the olive oil in a pot and sauté the onions on high heat. Lower the heat and add the spices and sauté for about a minute until fragrant. Add the vegetables, ginger and apple and sauté for about 2 - 3 minutes on medium heat. Add more olive oil if needed to avoid burning.
With the Vitamix 750: Add the sautéd vegetables to the Vitamix together with the vegetable broth. Turn on the "Soup" function and the Vitamix will do the rest.
Without the Vitamix: Add the vegetable broth, bring to a boil, then reduce the heat and let it simmer for about 40 minutes. Puree the soup with a regular blender (make sure your blender is suitable for hot liquid!) or immersion blender. Transfer back to the pan if you are using a blender.
For both versions: finally add the coconut milk, orange and lime juice to the soup and season with salt and pepper if needed.
Pre-heat the oven to 175°C (350°F).
Thoroughly wash and dry the kale. It should be as dry as possible. Tear the kale into small pieces, add it to a bowl together with the olive oil and salt. Coat every piece of kale with olive oil and spread it evenly on a baking sheet that you aligned with baking paper. The pieces should not overlap. I used three baking sheets for the whole bowl of kale.
Bake the chips for about 10 minutes until crispy, and then let them cool.
Serve the pumpkin soup garnished with kale chips and pumpkin seeds.
Recipe by
Heavenlynn Healthy
at https://www.heavenlynnhealthy.com/favorite-healthy-pumpkin-soup-kale-chips/