Healthy Pumpkin Muffins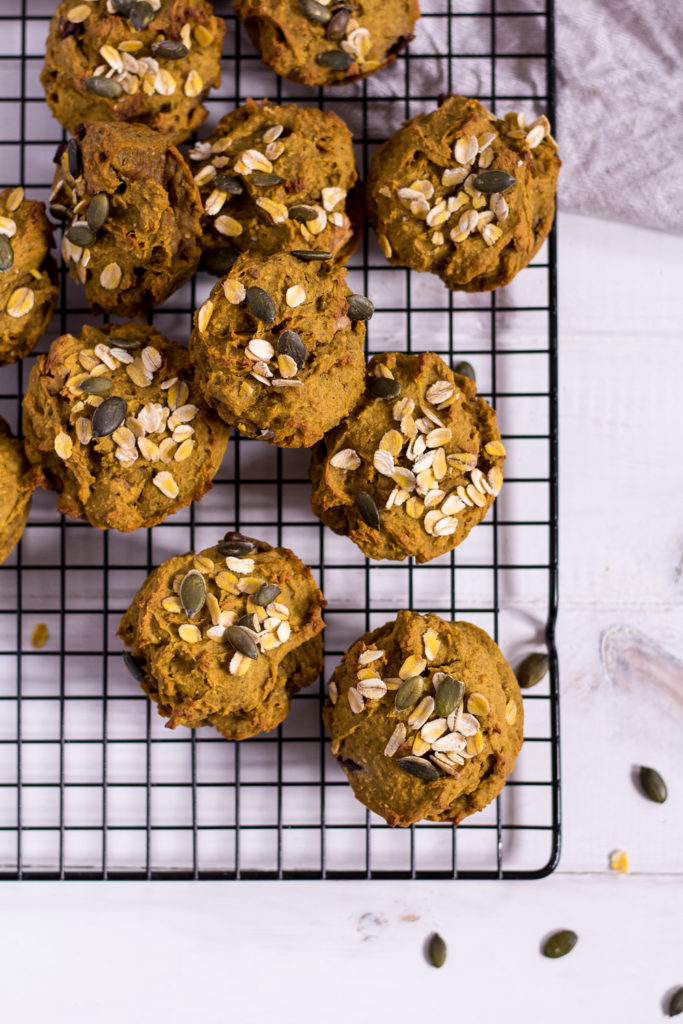 ⅓ cup (80g) of coconut oil
¼ cup (60g) of maple syrup
1 very ripe banana
1 tablespoon of chia seeds + 3 tablespoons of water
1 cup (225g) of pumpkin puree
¼ cup (60ml) of unsweetened almond milk
1¼ cup (150g) of buckwheat flour
¾ cup (60g) of oats
½ teaspoon of sea salt
1 teaspoon of aluminum-free baking soda
the insides of one vanilla pod
1 teaspoon of cinnamon
¼ teaspoon of nutmeg
¼ teaspoon of ginger
a pinch of allspice
a pinch of ginger
25g of naturally sweetened chocolate chips (I use Ombar) (optional)
a handful of oats for sprinkling (optional)
a handful of pumpkin seeds for sprinkling (optional)
Pre-heat the oven to 170°C (340°F). Grease a muffin pan with coconut oil if necessary.
Heat the coconut oil in a small pan. Combine the chia seeds with water in a small bowl and set aside for 10 minutes. Blitz the oats in a food processor or mixer until a flour forms and set aside.
In a mixing bowl or food processor, combine coconut oil, maple syrup and banana, and mix with a hand mixer or whisk. If you are using a food processor, mix well for about 20 seconds.
Add the pumpkin puree, almond milk, chia mix, baking soda, spices, salt and the insides of the vanilla pod, and whisk well.
Add the buckwheat flour and ground oats, and gentlly incorporate it into the wet ingredients. If you are using chocolate chips, add them now.
Use about 2 - 3 large tablespoons to fill each muffin cup. I like to fill them up a bit higher, but then you'll end up with only 9 - 10 muffins instead of 12. Sprinkle the muffins with additional oats and pumpkin seeds.
Bake the muffins for about 25 - 30 minutes until you can pull a fork out of the center of it clean.
Place the muffins onto a cooling rack and wait until they are cooled down completely before taking them out.
Stored in an air-tight container, the muffins will last for about 4 days. They do get denser the longer they are stored.