Edible DIY Gifts (+printable gift tags!): Savory Walnut Granola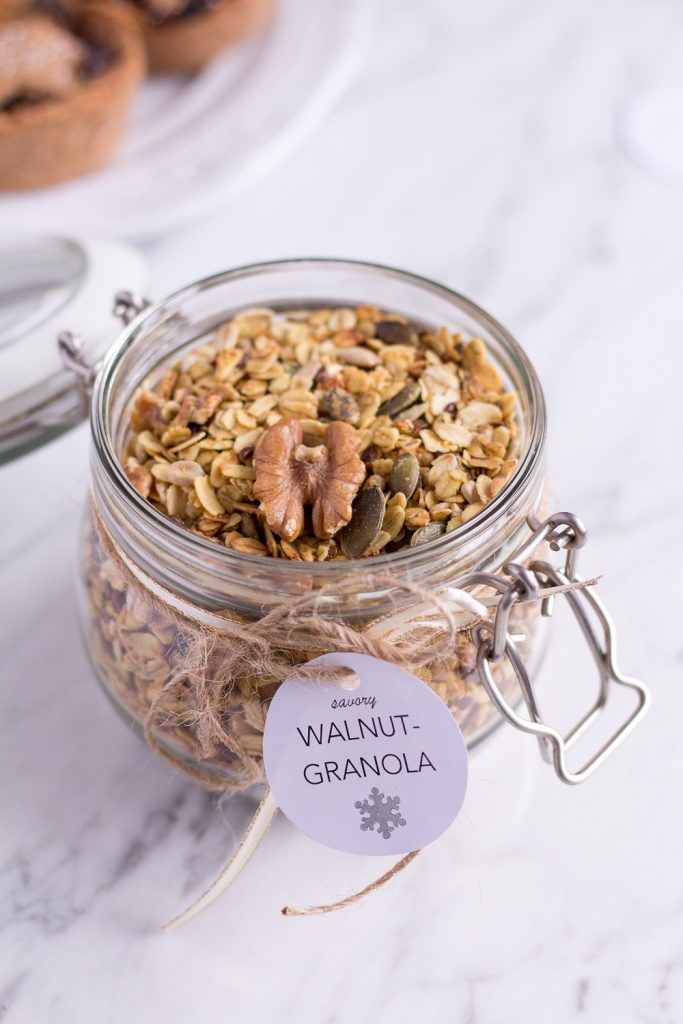 3 cups (gluten free) oats
1 cup walnuts
½ cup sunflower seeds
½ cup pumpkin seeds
¼ cup ground or whole flax seeds
6 Tbsp extra-virgin olive oil
2 Tbsp apple cider vinegar
1 Tbsp dijon mustard
1 Tbsp maple syrup
1 tsp fresh rosemary
½ tsp sea salt
a pinch of cayenne pepper
Pre-heat the oven to 165°C (330°F).
Combine the oats, the roughly chopped walnuts, and seeds in a bowl and mix well.
Combine the olive oil, apple cider vinegar, dijon mustard, maple syrup and spices in a small bowl and pour it over the dry ingredients. Mix well with a spoon until everything is covered.
Place the granola on a baking sheet covered with baking paper and bake for 15 - 20 until golden brown.
Let cool completely and store in an air-tight container for at least 4 weeks. Tastes great over salads or roasted veggies.
Recipe by
Heavenlynn Healthy
at https://www.heavenlynnhealthy.com/edible-diy-gifts-printable-gift-tags/