Sweet Potato and Parsnip Soup with Truffle-Popcorn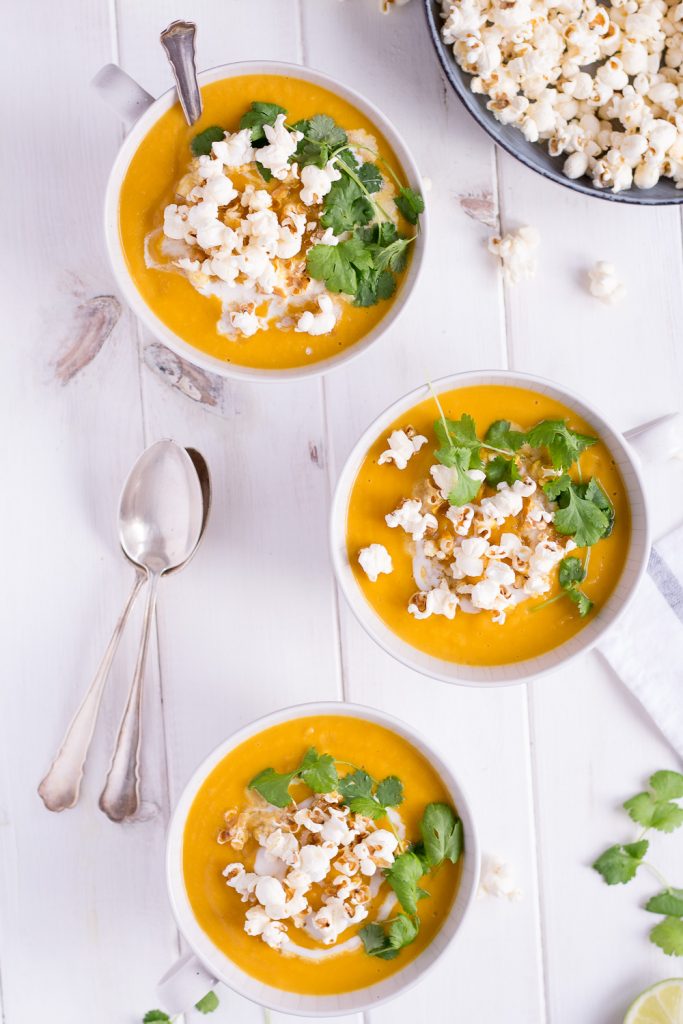 3 tablespoons of extra-virgin olive oil
500g parsnips
300g sweet potatoes
2 garlic cloves
1 red onion
2 cm fresh ginger
750ml water
3 tablespoons of home made vegetable broth paste (or 750ml of low-sodium veggie broth)
200ml coconut milk
2 teaspoons of turmeric
1 teaspoons of cumin
1 teaspoons of paprika
¼ teaspoon of chili flakes
½ teaspoon of cinnamon
½ teaspoon of sea salt
¼ teaspoon of fresh pepper
1 lime
a handful of coriander for decoration
50g popcorn kernels
2 tablespoons of coconut oil
1 - 2 teaspoons of truffle oil
a pinch of sea salt
Peel and cut the sweet potatoes and parsnips, red onion, garlic and ginger. Mix all the spices in a small bowl.
Heat two tablespoons of olive oil in a large pot, and sauté the red onion, garlic and ginger for about a minute. Add the spies and the rest of olive oil and fry for a few moments until fragrant. Then add the sweet potato and parsnip pieces and fry for about two minutes until the veggies are covered in the spices. Constantly stir while frying the veggies.
Add the water, veggie broth paste and bring to a boil. Reduce the heat and cook for about 25 minutes until you can easily break the sweet potatoes apart.
Once everything is cooked through, puree the soup with a hand mixer or high speed blender (make sure your blender is equipped for hot liquids).
Add the coconut milk, the juice of the lime and sea salt and pepper.
Heat the coconut oil in a pot together with about three popcorn kernels. Place the lid on the pot and wait until the three kernels have popped. Remove them, and add the rest of the kernels. Do not forget to place the lid on the pot again! Wait until all kernels have popped (shake the pot in between to prevent burning). Transfer the popcorn into a large bowl, add the truffle oil and sea salt and mix well so everything is coated.
Fill each bowl with soup, decorate with a bit of coconut milk and coriander, and a handful of truffle-popcorn.
Recipe by
Heavenlynn Healthy
at https://www.heavenlynnhealthy.com/sweet-potato-parsnip-soup-truffle-popcorn/