Christmas menu entrée: Holiday Stuffed Butternut Squash with Lentils and Kale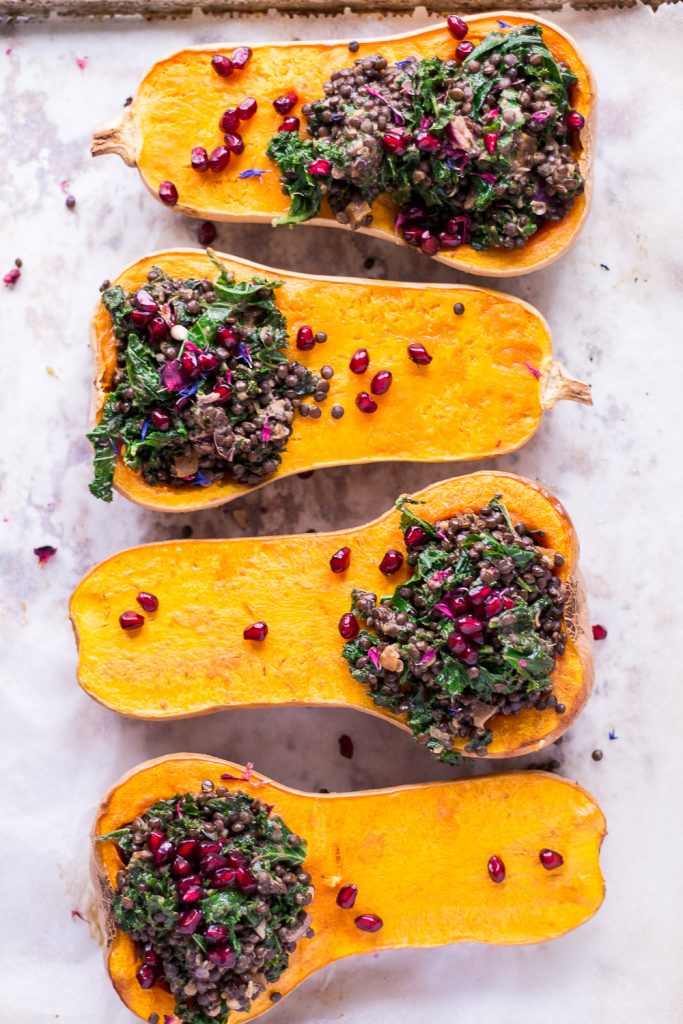 2 butternut squash
4 tablespoons of extra-virgin olive oil
½ tsp of sea salt
½ tsp of cinnamon
¼ tsp of pepper
1 red onion
2 garlic cloves
1½ cups (300g) of lentils
80g (three handful) of chopped kale
¼ cup (60ml) of water, more if needed
3 tablespoons of tahini
½ cup (65g) of chopped pecans
8 dried apricots, chopped
1 teaspoon of edible flowers
1 tsp of cumin
½ tsp of cinnamon
½ tsp of paprika
½ tsp of turmeric
½ tsp of sea salt
¼ tsp of pepper
1 lemon
A bunch of fresh herbs such as mint, cilantro or parsley
Cook the lentils according to package instructions. Drain and set aside.
Pre-heat the oven to 200°C (390°F).
Cut the butternut squash down lengthwise, scoop out the seeds, and brush lightly with olive oil. Place them face-down on a baking sheet aligned with baking paper. Cook for about 30 minutes until you can easily pinch them with a fork.
Peel and chop the onion and garlic. Heat two tablespoons of olive oil in a large skillet. Add onions and garlic and fry for a minute or two. Add all the spices and fry another minute or two until fragrant.
Now add the kale, lentils, dried apricots, pecans, water and tahini and let simmer on medium heat until the water evaporated. Add more water if needed. Stir in some of the chopped herbs, but keep some for garnishing.
Now to the fun part. Pinch the squash with a fork to "loosen" up the flesh. Add some olive oil, salt, and spices and really mix them with the flesh. I did not do this on the photos, because it does not look all that appealing, but it makes this dish taste 100 times better.
Once the flesh is loosened up and seasoned, scoop in about three tablespoons of the lentil-kale filling and sprinkle with a bit of fresh lemon juice.
Decorate with a tablespoon of coconut or greek yoghurt (if non-vegan), pomegranate seeds and fresh herbs.
Recipe by
Heavenlynn Healthy
at https://www.heavenlynnhealthy.com/christmas-menu-entree-holiday-stuffed-butternut-squash-lentils-kale/