Spiced Holiday Buckwheat Cake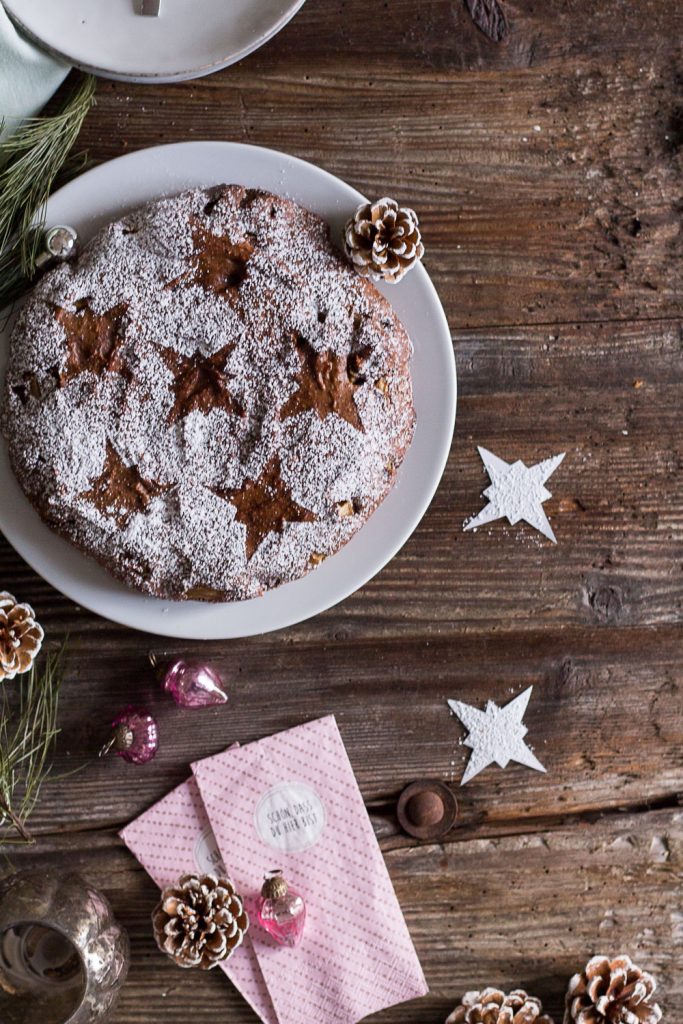 200g of buckwheat flour
100g of almonds
1 tablespoon of poppyseeds
4 tablespoons of raw cacao powder
2 teaspoons of cinnamon
½ teaspoon cardamom
½ teaspoon of vanilla powder
½ teaspoon of turmeric
¼ teaspoon nutmeg
¼ teaspoon of ginger
2 teaspoon aluminum-free baking powder
½ teaspoon of locust bean gum
100g of coconut sugar
60ml of maple syrup
155ml of unsweetened almond milk
80ml of rapeseed oil
1 tablespoon of apple cider vinegar
1 ripe, medium-sized banana
1 ripe pear
a pinch of sea salt
some powdered xylit for sprinkling (optional)
Pre-heat the oven to 175°C. Ground the almonds in a food processor or high speed blender. Align a small round baking dish (16cm diameter) with baking paper.
Combine all dry ingredients in a large bowl.
Pour the almond milk, apple cider vinegar and maple syrup in a separate bowl and let sit for 10 minutes. Mash a banana with a fork. Add it to the almond milk mix and whisk until a smooth liquid forms.
Pour the wet ingredients over the dry ingredients and whisk well until combined.
Remove the core from the pear, cut it into small pieces and add to the cake batter. Mix well.
Pour the batter into the baking dish and cook for 45 - 50 minutes. Place aluminum foil on top of the cake for the last 10 minutes to prevent the top from burning.
Remove the cake from the oven and let sit for at least 20 minutes.
Sprinkle with some powdered xylit (I cut out some stars to make it look pretty) and enjoy!
Recipe by
Heavenlynn Healthy
at https://www.heavenlynnhealthy.com/spiced-holiday-buckwheat-cake-3/