Green Kale Vegetable Soup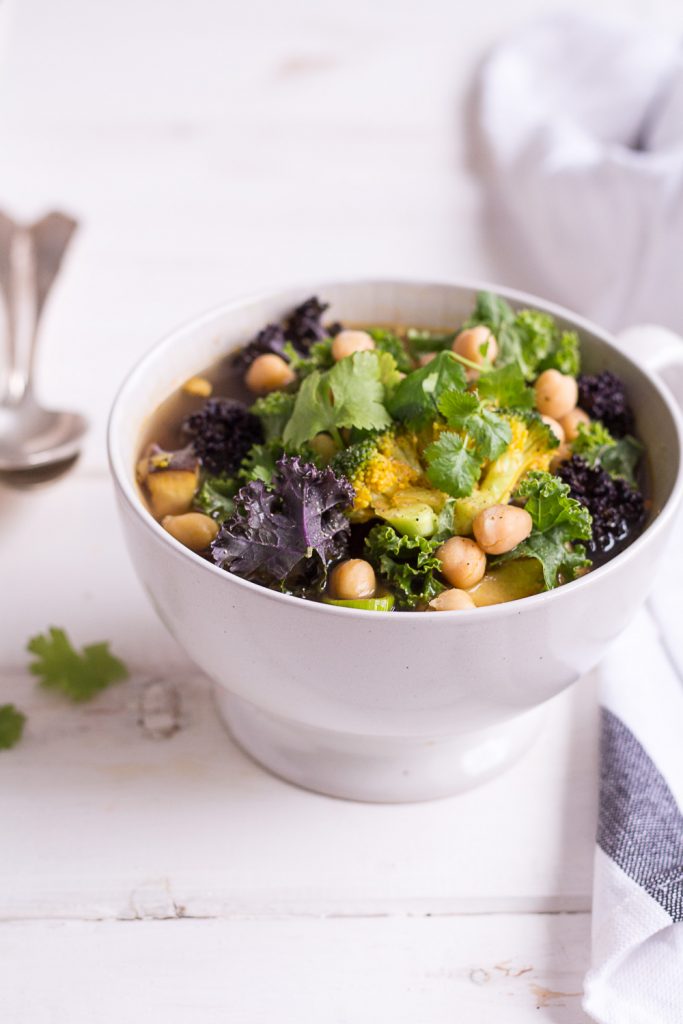 1 teaspoon of coconut oil
1 large garlic clove
1 red onion
1 large leek
1 thumb-sized piece of fresh ginger (about 20g)
1 bay leaf
1 teaspoons of cumin
1 teaspoon of turmeric
½ teaspoon of coriander
½ teaspoon of paprika
a pinch of cinnamon
a pinch of cayenne pepper
1 red bell pepper
½ broccoli
150g of shiitake mushrooms (or other mushrooms)
2 carrots
1.5 liters of water or vegetable broth
3 tablespoons of homemade vegetable stock paste (if using water)
1 cup of chickpeas
2 handfuls of kale or spinach
the juice of 1 orange
sea salt and pepper to taste
fresh coriander (cilantro) and/or parsley to decorate
Wash the vegetables and cut them into bite-sized pieces. Wash and slice the leek. Peel and dice the garlic and onion. Wash and tear the kale into small bite-sized portions.
Heat the coconut oil in a large pot. Sauté the onion, garlic and leek for about two minutes until translucent. Add the spices, bay leaf and vegetables and sauté for another two to three minutes until fragrant.
Add the water and vegetable stock paste (or vegetable broth) and let simmer on medium heat for about 20 minutes until the veggies are tender.
Then add the torn kale and chickpeas and cook for another 5 minutes. Stir-in the fresh orange juice, and season with sea salt and black pepper.
Decorate with some chopped, fresh herbs and enjoy!
Recipe by
Heavenlynn Healthy
at https://www.heavenlynnhealthy.com/green-kale-vegetable-soup/