Healthy Blueberry Millet Pancakes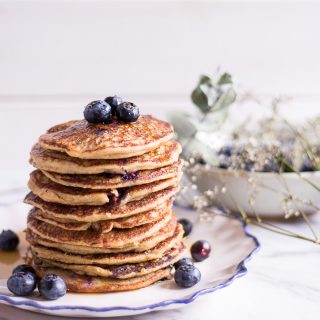 1 cup (130g) of millet flour
½ cup (50g) of oats
½ cup (125ml) of almond or (gluten-free) oat milk
¾ cup (150ml) of sparkling water
1 cup of blueberries
2 tablespoons of coconut oil
2 bananas
2 teaspoons of aluminum-free baking powder
½ teaspoon of of cinnamon
½ teaspoon of vanilla powder
a pinch of salt
Start by blending the oats into a flour using your food processor. Add the millet flour, the baking powder, vanilla powder, cinnamon and salt.
Mix the banana with the almond or oat milk and the coconut oil using a mixer or food processor.
Combine the wet ingredients with the dry ingredients. Gradually pour the sparkling water into the batter and mix with a whisk. Carefully add the blueberries to the batter and stir until just combined.
Place a saucepan on the stove and heat it for about a minute or two until it's hot enough. Grease it with a teaspoon of coconut oil. Wait until the coconut oil has melted, then add a quarter cup of the batter (about two tablespoons) to the middle of the saucepan. Form a round pancake with your spoon and wait until little bubbles form on the upper side of the pancake before flipping it over.
Allow the other side to cook for another one or two minutes, then remove the pancake and move on to the next one. Repeat this procedure until you've used up all the batter. Depending on the quality of your saucepan, you'll probably not need to use a new teaspoon of coconut oil for every pancake.
Recipe by
Heavenlynn Healthy
at https://www.heavenlynnhealthy.com/healthy-blueberry-millet-pancakes/