Pear and Hazelnut Porridge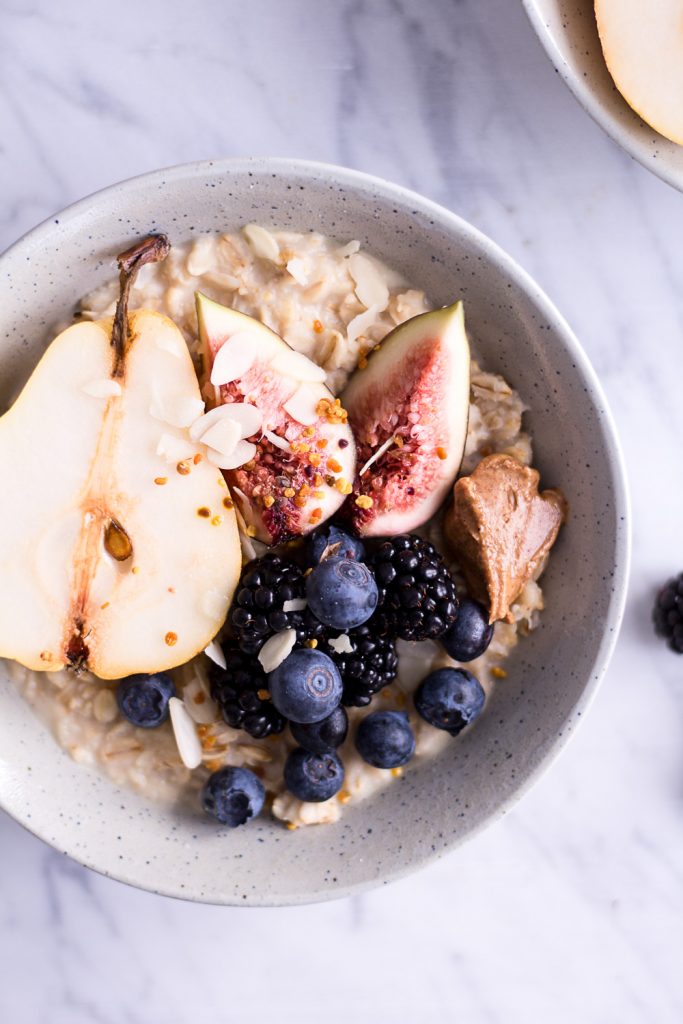 1 cup (100g) of oats, use gluten-free if needed
1½ cups (375ml) of hazelnut milk
the juice of ½ orange
½ teaspoon of cinnamon
¼ teaspoon of vanilla powder
a small pinch of cardamon
½ teaspoon of grated fresh ginger or ginger powder
2 teaspoons of almond butter, or any other nut butter
3 tablespoons of sliced hazelnuts or almonds
1 teaspoon of organic raw honey (optional)
1 pear
½ cup of fresh or frozen berries, I like blackberries and blueberries
Heat the hazelnut or almond slices in a pan without oil for 5 minutes until brown. Remove the chore from the pear and cut it into small cubes.
Add the oats and hazelnut milk to a saucepan and allow it to heat for about 5 minutes, or until bubbly.
Now add the orange juice, pear slices, almond butter and spices and let it dissolve completely while frequently stirring. If it gets too dry, add more hazelnut milk.
Finally add the honey or maple syrup for a final stir.
Once it's all mixed, pour into two bowls and garnish with the toasted hazelnuts or almonds, pear, berries and more almond butter. Or go completely crazy with any other topic of your choice.
Recipe by
Heavenlynn Healthy
at https://www.heavenlynnhealthy.com/pear-hazelnut-porridge/