Healthy Lemon & Blood Orange Upside Down Cake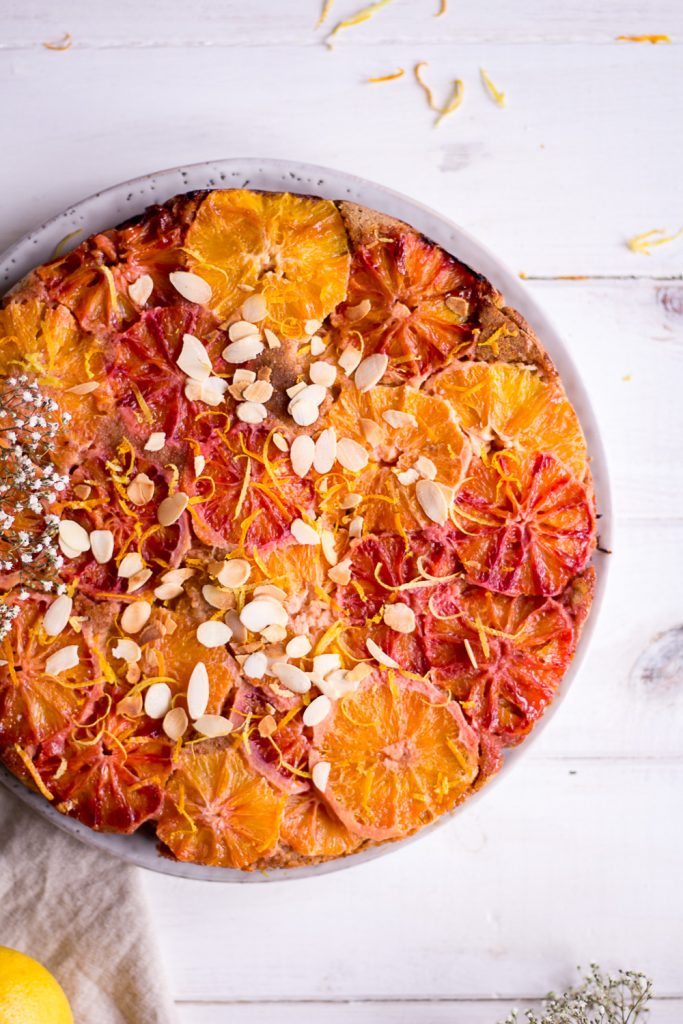 2 cups (350g) of almonds
1 cup (150g) of polenta
2 teaspoons of aluminum-free baking powder
2 tablespoons of arrow root powder
½ cup (120g) of coconut blossom sugar
½ cup (120ml) of oat or almond milk
1 teaspoons of apple cider vinegar
the juice of two organic lemons
the juice of one blood orange
the zest of one organic lemon
the zest of one organic blood orange
a pinch of salt
three blood oranges or regular oranges
1 - 2 tablespoons of maple syrup or coconut blossom sugar
2 tablespoons of almond slices
Ground the almonds into a flour. Mix the plant milk with the apple cider vinegar and set aside for 10 minutes. Zest the lemon and blood orange and then juice two lemons and the blood orange. If you are making the upside down cake version, cut the blood oranges or oranges into thin slices and remove the peel.
Combine the almond flour, polenta, baking powder, salt and coconut blossom sugar in a bowl and mix until completely combined.
Add the plant milk and lemon and orange juice, starch and mix everything well in a food processor or hand mixer.
Pre-heat the oven to 180°C (356°F).
Place a sheet of baking paper into a round baking dish and place the orange slices on the bottom of the dish. Sprinkle with maple syrup or coconut sugar. Then add the cake batter.
Bake at 180°C for 35 - 40 minutes until you can pull a knife out of the center of it clean.
Let the cake cool for at least 30 minutes before flipping the cake upside down. Peel down the baking paper and let cool completely. Garnish with almond slices and or more lemon / blood orange zest.
Recipe by
Heavenlynn Healthy
at https://www.heavenlynnhealthy.com/healthy-lemon-blood-orange-upside-down-cake/