Spring Bowl with Tahini Lemon Dressing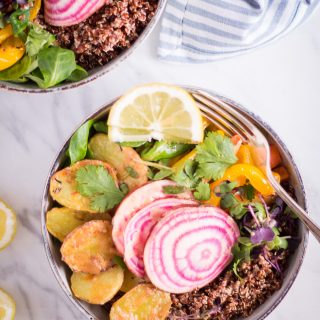 300g of small potatoes
1 red bell pepper
2 carrots
1 fennel
1 tablespoon of extra-virgin olive oil
2 tablespoons of sesame seeds
1 tablespoon of rosemary
sea salt and pepper
½ cup (80g) of quinoa
two handful of leafy greens such as mache, baby spinach or rocket
1 pink beet
some micro greens for decoration
4 tablespoons of tahini
the juice of ½ lime
1 tablespoon of tamari
1 tablespoon of maple syrup or raw honey
2 tablespoons of water
1 garlic clove
2 cm (a little less than 1 inch) of ginger
Wash and cut the vegetables in bite-sized pieces. Half the potaoes with the skin on.
Marinate the vegetables and potatoes with olive oil, rosemary, sesame seeds, sea salt and pepper. Place the vegetables and the potatoes face down on a baking sheet with baking paper and bake for 35 - 40 minutes at 180°C.
For the bowl, rinse the quinoa under running water, then cook it together with 1½ cups of water and a teaspoon of apple cider vinegar for 15 minutes. Wash the salad, cut the beetroot in thin circles, and place both in two seperate bowls. Once the quinoa is done, split it between the two bowls. Store leftovers for the next day.
For the dressing, finely chop the garlic and ginger and mix it with the other ingredients.
Add the roasted vegetables to the bowls, garnish with the micro greens and serve with the dressing.
Recipe by
Heavenlynn Healthy
at https://www.heavenlynnhealthy.com/spring-bowl-tahini-lemon-dressing/