Asparagus Sandwich with Pea Basil Creme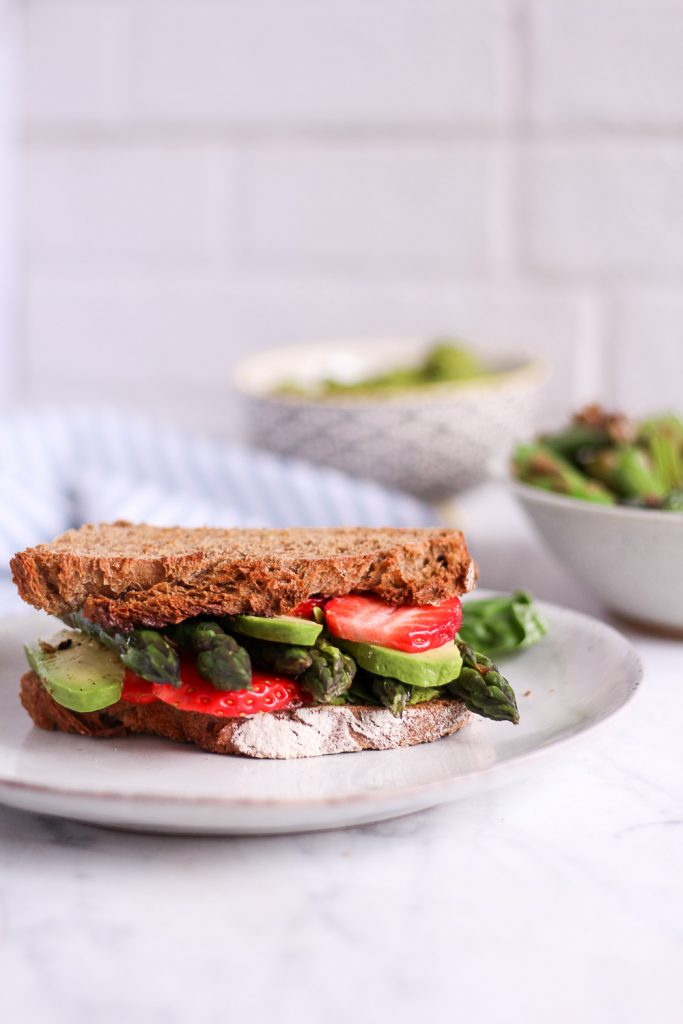 1½ cups (200g) of frozen peas
1 lime
a handful of fresh basil
2 tablespoons of extra-virgin olive oil
5 cups (500g) of green asparagus
1 shallot
1 ripe avocado
4 – 5 strawberries
a good handful of fresh baby spinach or rocket
some coconut oil or ghee for frying
4 slices of whole-grain rye sourdough bread or gluten-free bread of your choice
To make the pea basil creme, simply combine the peas, the olive oil, the basil, the lime juice and salt and pepepr in a blender or food processor. Add some water if your machine has difficulties blending it. It does not need to be a smooth creme, it can still be chunky from the peas.
Cut the avocado in half, remove the stone and scoop out the flesh with a spoon. Cut it into thin slices. Wash the strawberries, remove the green parts and slice it as well.
To make the asparagus, start by cutting of the ends of the asparagus. Cut the stems into two-inch pieces. Finely chop the shallot. Heat some coconut oil or ghee in a saucepan. Fry the shallots for a minute or two until golden brown. Add the asparagus and cook for 3 - 5 minutes, depending on the thickness of the stems. Set aside.
Toast the bread slices and spread a generous amount of pea basil creme on each slice. Layer with the asparagus, strawberries, avocado and strawberry slices and baby spinach or rocket.
Recipe by
Heavenlynn Healthy
at https://www.heavenlynnhealthy.com/asparagus-sandwich-pea-basil-creme/